Hundreds of civilians have returned to a battered district of Syria's Raqa in what a US-backed force said was the first wave of returns since it cleared explosives left by militants.
The ISIS group lost control of Raqqa - once its primary Syrian bastion - on October 17 after a months-long battle with the Syrian Democratic Forces.
Tens of thousands of people fled the city during the offensive, reducing Raqqa to a ghost town of collapsed buildings.
The SDF said in an online statement on Sunday that hundreds of families had returned to ql-Meshleb, Raqqa's easternmost district.
"The SDF informed civilians from al-Meshleb that they could return to their homes after mine-removal teams had finished clearing the entire neighborhood of explosives left indiscriminately in civilian homes by ISIS," the force's press center said.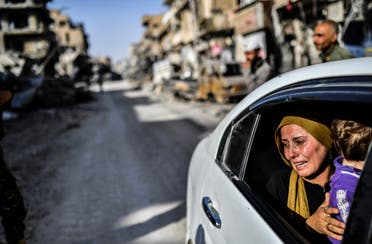 It said the district was the first to which residents had returned since the city's "liberation from Daesh", an Arabic acronym for ISIS.
After capturing Raqqa, the SDF sealed off the city to allow for mine removal operations in bombed-out neighborhoods.
Residents often amassed at checkpoints in recent weeks, waiting for permission to access the city and see if their homes were still standing.
Some civilians who sneaked in were killed by unexploded ordnance.
Mine-clearing and reconstruction operations in Raqqa are being coordinated by the Raqqa Civil Council, a provisional local government body appointed by the SDF but based outside the city.
"Yes, residents of Al-Meshleb returned to their homes - but the whole city hasn't been cleared of mines yet," senior council member Omar Alloush told AFP on Monday.
The deputy head of the council's reconstruction committee, Nazmi Mohammad, said the body had dispatched 10 bulldozers to Raqqa to help clear rubble and blocked-off roads in al-Meshleb.
After capturing Raqqa in 2014, ISIS used the city as a hub for the administration of its self-styled "caliphate" in Iraq and Syria.
Following months of losses in the face of multiple offensives, touted ISIS fighters are now defending their last redoubts further down the Euphrates Valley.
More than 330,000 people have been killed since Syria's conflict erupted in March 2011 with anti-government protests that were brutally suppressed.