President of Egypt Abdel Fattah al-Sisi honored the youth for their contributions to the World Youth Form at the closing ceremony of its sessions, Thursday, in Sharm El Sheikh.
The event which is sponsored by the Egyptian President to help boost the younger generations' ideas and counter extremist and terrorism ideologies drew, in numbers, 233,000 applicants, 1 million Facebook followers, 3,200 attendees from 64 countries as well as 222 speakers.
Over 1000 volunteers, 2000 engineers and technicians who worked restlessly to contribute to the success of the forum.
During the closing of World Youth Forum in Sharm El Sheikh, International participants gave a speech about their experience with the Forum.
Catherine from Russia affirmed her sense of safety in Egypt and called upon all Russians to come visit Egypt.
A French attendee thanked Egypt for being treated as kings & queens.
A Japanese Mexican attendee talked about how he learnt that all people face the same challenges but in different ways and since they had the chance to talk, there is a need to act.
President al-Sisi awarded 14 youth from around the world to honor them for their remarkable contributions including Yazidi survivor Lamya Haji Bashar who was held captive by ISIS.
President al-Sisi gave a speech in the closing ceremony of the World Youth Forum and listed the forum's recommendations which includes holding the sessions every November, and to take the necessary role to launch it as a center for Arab-African and international dialogue among the youth of the world.
The Egyptian President said that the participation of young people from all over the world in the forum was a source of happiness for all Egyptians.
He pointed out that the forum and its sessions serve as a guide to the world on the youth's ability to launch a dialogue and debates, which provided an opportunity to brainstorm on many topics of interest to young people.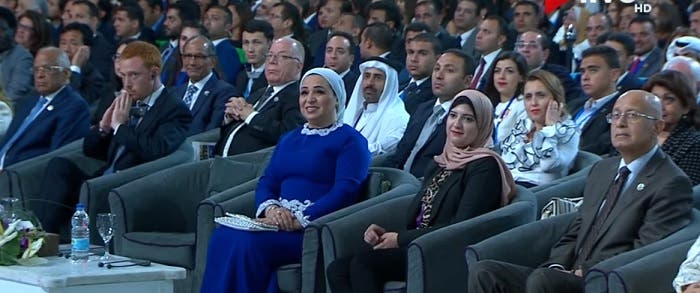 He stressed that the presence of young people from all over the world is an opportunity to overcome the negative effects of what is published in the media sending messages which are subjected to visions and interests.
Al-Sisi noted that the growth and development witnessed by the media and social networks will eventually lead to the formation of a more sophisticated awareness and development.
The World Youth Forum provided an opportunity for practical dialogue and the exchange of visions, which is needed in the region and Egypt to address the false and misconceived ideas, through communication and work towards building and reform, he added.
Al-Sisi wrapped up his speech saying: "I will not say goodbye to you all but I'll say, welcome to the next version of the World Youth Forum November 2018."