Al Jubeir: Lebanon will find peace when terrorist group Hezbollah is disarmed
Saudi Foreign Minister Adel al-Jubeir said, on Friday, that Hezbollah was a terrorist organization and Lebanon would only enjoy peace by disarming it.
"Hezbollah must be disarmed and become a political party for the stability of Lebanon," Al-Jubeir told reporters at a news conference with Alfonso Dastis, minister of Foreign Affairs and Cooperation of Spain.
"Lebanon will only enjoy peace by disarming Hezbollah," he said.
"Hezbollah's terrorist militia, it can not be allowed to operate outside the frame of the law," he added.
He also stressed that it was Hezbollah that put obstacles in front of Saad Hariri and used the banking system to finance its terrorist activities.
Al-Jubeir said that Saudi Arabia has always been supportive of Lebanon and the Taif Agreement.
The Saudi minister also paid tribute to the Spanish role throughout the Middle East crises.
During the meeting, the two ministers discussed distinct bilateral relations binding the two friendly countries, joint efforts exerted to combat terrorism as well as extremism, in addition to regional and international developments and various issues of common interest, reported Saudi Press Agency.
The meeting was attended by the Saudi Ambassador to Spain Prince Mansour bin Khalid bin Abdullah.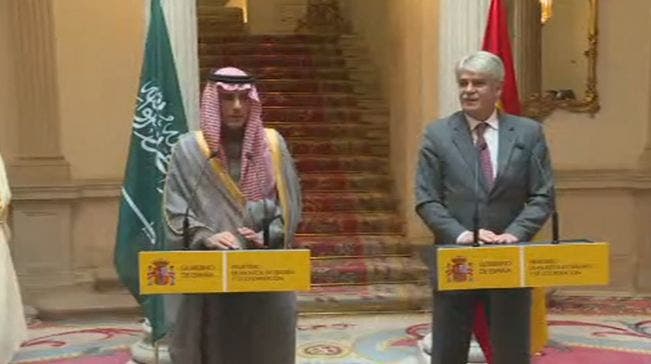 During a joint press conference earlier with his French counterpart Jean-Yves Le Drian, Jubeir added that Hezbollah's continuous interferences in Arab countries' affairs will worsen the situation in Lebanon.
Saudi Foreign Minister Adel al-Jubeir said Hezbollah is the root of the problem in Lebanon as it has hijacked the Lebanese system.
He also said that the Hezbollah militia is a weapon in Iran's hands, noting that Hezbollah's secretary general himself has acknowledged that.
Jubeir, whose meeting with Le Drian addressed Iranian interferences, combating terrorism and the Lebanese crisis, said Lebanon's resigned Prime Minister Saad Hariri lives in Saudi Arabia and the decision to return to Lebanon is his as it depends on security circumstances.