Lebanon's President Michel Aoun voiced his rejection of the Arab League's statement that categorized Hezbollah as a terrorist militia following its extraordinary meeting on Sunday.

Aoun told the Arab League chief who is visiting Beirut that he rejects hints that the government is a partner in terrorist acts. He also adopted Hezbollah's stance regarding its illegitimate weapons and justified their presence by citing Israeli threats.

This comes after Arab League foreign ministers held an extraordinary summit in Cairo upon Saudi Arabia's request after Houthi rebels in Yemen fired a ballistic missile towards Saudi territories.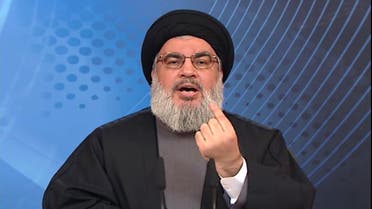 Supporting terror
The summit's final statement held Hezbollah, which is a "partner in the Lebanese government, responsible for supporting terrorist groups in Arab countries with advanced weapons and ballistic missiles."

It called on the Iranian-backed group "to stop spreading extremism and sectarianism, to stop interfering in other countries' domestic affairs and to quit supporting terrorism and terrorists in its regional surrounding."

Lebanon, which participated in the meeting via Antoine Azzam, its permanent representative at the league, due to Foreign Minister Gebran Bassil's absence voiced reservations over the part on Hezbollah's role.
This article is also available in Arabic.