The Arab coalition has made a statement on Saturday amidst the ongoing fierce clashes in Sanaa.
The coalition said it is determined that it has maintained its position on all Yemeni ground.
The coalition also said that it recognizes the noble members of the the Yemeni General People's Congress (GPC), the GPC's leadership and the Yemeni people who were forced to remain under Houthi-Iranian control.
Also, the coalition recognizes that these noble individuals have endured numerous murder threats, torture, bombings and seizure of public and private property.
Similarly, the coalition noted that their brothers in the alliance towards restoring legitimacy in Yemen was keen that the restoration of their initiative and their allegiance to the Yemeni people – and the Yemeni people's stand in the circumstances – would rid Yemen of the Iranian sectarian terrorist militia's evils.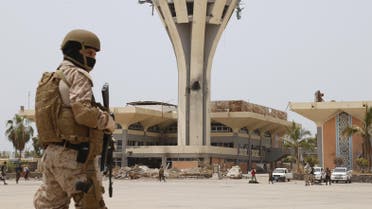 The Arab coalition called on 'honest Yemenis' to unify their efforts around their uprising.
As such, Yemen will return to its natural place – to the pure Arab region, added the coalition.