Several nations from around the globe have come forward to oppose Donald Trump's move to recognize Jerusalem as Israel's capital.
German Chancellor Angela Merkel "does not support" the decision by US President Donald Trump to recognize Jerusalem as Israel's capital, her spokesman said Wednesday.
The German government "does not support this position because the status of Jerusalem can only be negotiated within the framework of a two-state solution," spokesman Steffen Seibert wrote on Twitter.
ALSO READ: Saudi Arabia describes Jerusalem decision as irresponsible and unjustified
German foreign minister Sigmar Gabriel, for his part, said he feared Trump's decision would lead to a "new escalation in the conflict between Israel and the Palestinians". The decision will likely throw "fuel on the fire", he told public broadcaster ARD.
"We hope that (our) worries can be... calmed. But this about face is already a big problem."
Malaysia calls for strong opposition
Malaysian Prime Minister Najib Razak called on Muslims everywhere to strongly oppose any recognition of Jerusalem as Israel's capital.
"I call on all Muslims across the world to let your voices be heard, make it clear that we strongly oppose any recognition of Jerusalem as Israel's capital for all time," Najib said in his speech at an annual gathering of the ruling party in Kuala Lumpur.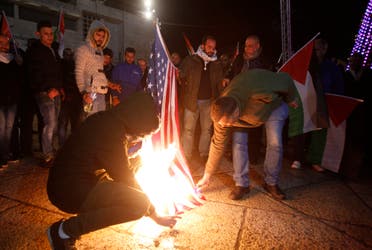 Pakistan expresses solidarity with Palestinians
Pakistan on Wednesday reaffirmed full solidarity with the Palestinian people and expressed concern over the proposed move by the United States to shift its embassy in Israel to Jerusalem, saying "such a step would constitute a clear violation of international law and UN Security Council (UNSC) resolutions".
ALSO READ: Strikes and protests planned across Palestine over Jerusalem decision
A statement issued by the Prime Minister Office stated that shifting the US embassy to the "occupied City of Al-Quds Al-Sharif will alter the legal and historical status of the city".
"It would also sidestep decades of global consensus on this issue, undermine regional peace and security as well as derail any prospects for a lasting peace in the Middle East," the PM Office statement, quoted by The Dawn newspaper said.
World's largest Muslim-majority country
Indonesian President Joko Widodo, leader of the world's largest Muslim-majority nation, on Thursday condemned the US decision to recognize Jerusalem as Israel's capital.
"Indonesia strongly condemns the United States' unilateral recognition of Jerusalem as the capital of Israel and asks the US to reconsider the decision," Widodo told a news conference. "This can rock global security and stability," he said.
UAE denounces
The United Arab Emirates has denounced the US decision to recognize Jerusalem as the capital of Israel, state news agency WAM reported on Thursday, citing a foreign ministry statement.
"The ministry expressed deep concern over the repercussions of this decision on the region's stability as it inflames the emotions of the Arab and Muslim people due to the status of Jerusalem in the conscience of Arabs and Muslims," the statement added.
(With Reuters, AFP inputs)