Thousands of Arab citizens demonstrated, on Friday, in the streets of the city of Ahwaz, the center of the Arabistan province, protesting against the confiscation of lands of Arab farmers.
The demonstrators were showing solidarity with the residents of al-Jalizi village in the north of the region, who were violently attacked by the Iranian internal security.
60 people were arrested after being violently suppressed last Monday during their demonstrations against the confiscation of their lands by the Iranian army.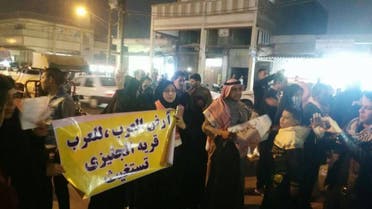 The protesters walked around the streets of Ahwaz on Friday, raising slogans against the Iranian regime, condemning the security forces' repression of al-Jalizi villagers, beating and humiliating women and men for the as they only rejected the confiscation of their land.
Activists posted clips on social media showing youth saying "Land for the Arabs" and "Mother of the Martyr calls ... Ahwaz is the honor of my country ", "Free al-Jalizi" and "Al Ajami should get out."
They also raised pictures and banners calling for the release of detainees and to return the lands to its owners.
The Ahwazi human rights organization said that 60 people from al-Jalizi village, including women, were still detained by the security forces following their arrest on Sunday and Monday.
The authorities violently repressed their protest over the decision of the Iranian army's organization "Etka"; which took over 4,000 hectares in this village.
Ahwazin activists circulated through social media several video sections showing the violent attack of the Iranian internal security forces shooting at the protesting Arab farmers, among which women who had been violently beaten, then the authorities started to massively arrest the residents of the village.