Saudi Crown Prince Mohammed bin Salman bin Abdulaziz met with Palestinian President Mahmoud Abbas on Thurdsday in Riyadh.
During the meeting, they discussed the latest developments in Palestine and the practical efforts along the way to guarantee the legitimate rights of the Palestinian people to establish their independent state with East Jerusalem as its capital.
The meeting was attended by Saudi Foreign Minister Adel al-Jubeir, the accompanying minister and the head of general intelligence Khaled al-Humaidan.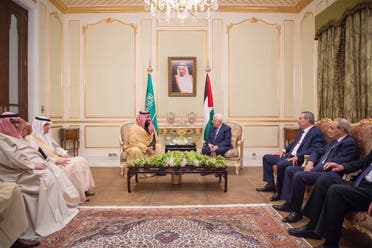 From the Palestinian side, the head of the Civil Affairs Authority, Sheikh Hussein, the head of the Intelligence Service, General Majid Faraj, and the Ambassador of the State of Palestine to the Kingdom, Bassem Abdullah Al-Agha, attended the meeting.