Palestinians launched more anti-US protests on Friday, and at least two demonstrators were killed in the Gaza Strip, a health official said, after the UN General Assembly rejected Washington's recognition of Jerusalem as Israel's capital.
Smoke billowed from burning tires at a demonstration in Bethlehem, in the occupied West Bank, two days before Christmas celebrations in the biblical town.
Israeli gunfire killed a 24-year-old Palestinian and wounded 10 other protesters during a stone-throwing demonstration in the southern Gaza Strip, a spokesman for the Palestinian Health Ministry there said. The Israeli military said it was checking the report.
A second man,whose identity is still unknown, died in clashes east of Gaza. He was shot in the chest according to the health ministry official.
One of the wounded, part of a crowd that approached the border fence chanting that US President Donald Trump was a "fool" and a "coward", was dressed as Santa Claus, witnesses said.
Protests erupted in all of the West Bank's seven cities and in East Jerusalem. Health officials said at least five Palestinians were wounded by rubber bullets fired by Israeli security forces, who also used tear gas.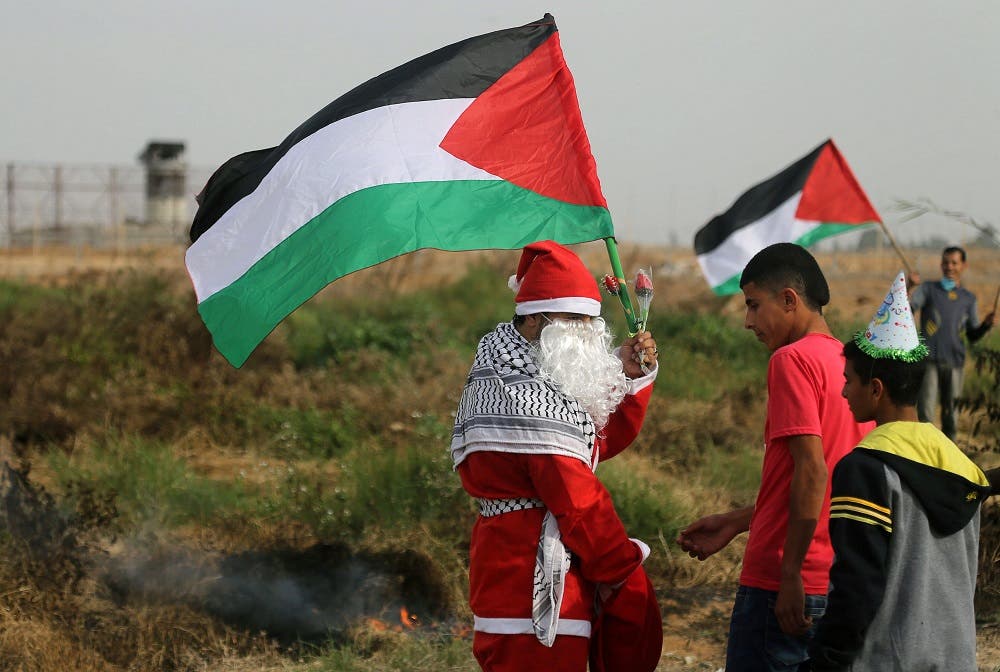 Defying the United States on Thursday, the UN General Assembly approved a resolution calling for the United States to drop its Dec. 6 recognition of Jerusalem, a city revered by Jews, Muslims and Christians, as Israel's capital.
Palestinian President Mahmoud Abbas, in a Christmas message, condemned Trump's reversal of a decades-old US policy on Jerusalem "an insult to millions of people worldwide, and also to the city of Bethlehem."
Palestinians have protested daily since Trump's Jerusalem announcement, throwing stones at Israeli security forces. Gaza militants have also launched sporadic rocket fire.
ALSO READ: Moving US embassy to Jerusalem may change the course of action
Friday's death in Gaza raised to nine the number of Palestinians killed by Israeli gunfire during the demonstrations, Palestinian health officials said, and dozens have been wounded. Two militants were killed in an Israeli air strike in Gaza after a rocket attack. There have been no Israeli fatalities or significant injuries.
"Excessive force"
Amnesty International on Friday called on Israeli authorities to stop using "excessive force."
"The fact that live ammunition has been used during protests in Gaza and the West Bank is particularly shocking," it said.