The leader of the Sadrist movement political party, Muqtada al-Sadr, criticized the new electoral alliance of Iraqi Prime Minister Haider al-Abadi with the Iranian backed Popular Mobilization Unit (PMU) militias.
Sadr, one of the most influential religious and popular figures in Iraq, issued a statement issued on Sunday describing the alliance as "an abhorrent political agreement."
He also expressed his deep surprise at the inclusion of the PMU militias calling them an "abhorrent sectarian dichotomy," that is aimed at reproducing a "corrupt political class".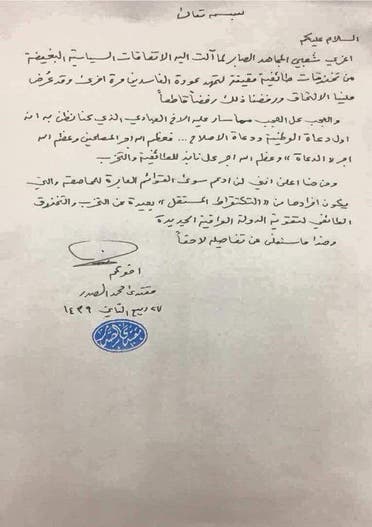 Sadr clarified that his support will be for campaigners who are rejecting the principles of sectarian quota divisions that are being pushed by technocrats in the campaign.
Prime Minister al-Abadi signed an agreement on Sunday with Hadi al-Amiri to establish the Iraq Victory Coalition.
He said in a statement that the "victory coalition will preserve the sacrifices of martyrs and wounded heroes who battled for Iraq and fight corruption in all forms through relying on the national talent".
"The coalition will work for all Iraqis and strengthen the unity of the country and national sovereignty and achieve justice and equality among Iraqis in rights and duties," he added.