Syrian regime opens roads for Kurdish forces in Afrin, US 'not paying attention'
Following the Syrian regime condemning Turkish military operations and "Operation Olive Branch" in Afrin on Saturday, the Assad regime opened up roads for the Kurdistan Workers' Party (PKK) and the Democratic Union Party (PYD) in order to transport weapons and reinforcements, the Anadolu Agency reported.
According to the news agency, the Syrian regime opened the PYD-PKK-held Sheikh Maqsoud neighborhood, and allowed the two groups to use Nubl and Al-Zahra roads connecting the center of Aleppo to Afrin.
An unknown number of PYD/PKK vehicles loaded with ammunition have been moving towards Afrin, the Anadolu Agency added.
US involvement in Afrin
The commander of the US Central Command, General Joseph Votel, said that Turkey informed the US about its military operation in Afrin, pointing out that Afrin does not fall within the scope of the US military.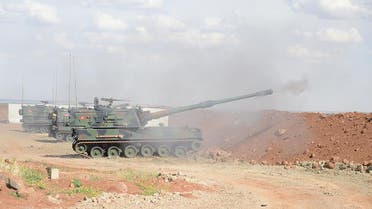 However, Votel added that a possible operation in Manbij was not disclosed to them.
"We are not paying particular attention to that area with our military resources," General Joseph L. Votel told reporters during his flight in the Middle East, according to the Anadolu Agency.
Votel's statement came following Turkey's "Operation Olive Branch" in Afrin, aiming to establish security along its borders and eliminate the PYD and PKK groups.
He added that the fight against ISIS still continues in Syria, and that Turkey's operation on Afrin would distract the efforts in this manner, the Anadolu Agency reported.
On Sunday, France urged Turkey to stop its attacks on the Kurdish YPG in Syria, and called for a Security Council meeting to discuss Turkish incursions in Syria.