Raghad Saddam Hussein responds after being named on Iraq's most-wanted list
Saddam Hussein's daughter, Raghad, has vowed to confront all those who "insult her" by suing them back.
Her comments came during a telephone interview with Al Arabiya in response to the inclusion of her name in the list of the most wanted Iraqis.
Iraqi security services on Sunday published the names of 60 people wanted on suspicion of belonging to ISIS, al-Qaeda or the Baath Party of late dictator Saddam Hussein.
Raghad revealed during the phone call that she does not currently reside in Jordan as previously believed by media outlets.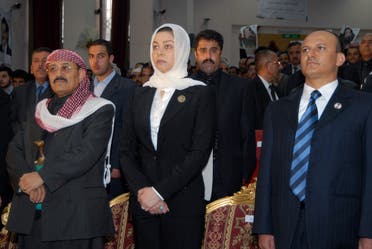 As for her inclusion on Iraq's most wanted list, Raghad said she knew of this since 2006 given that Jordan had confirmed to her "more than once that I was being viewed under the microscope, and that all my going ones were being known to all".
The daughter of Iraq's late dictator criticized Baghdad for focusing on her and said they "have no other work but Raghad, at a time when their country is suffering from occupation".
She condemned what she called as insults she suffered as a mother of five children and the daughter of a former president, pointing that she stood by her father during his final days.