UAE and Egypt assert joint strategies to stop supply of weapons to terrorists
Egypt and the UAE stressed their keenness to enhance cooperation with all Arab countries and to react against any foreign interference in Arab affairs.
Ambassador Bassam Radi, the spokesperson on behalf of the Egyptian presidency said that Egypt's President Abdelfattah al-Sisi arrived, on Tuesday, in Abu Dhabi where he was welcomed by Sheikh Mohammed bin Zayed Al Nahyan, Crown Prince of Abu Dhabi and Deputy Supreme Commander of the UAE Armed Forces and Dubai ruler Sheikh Mohammed bin Rashid Al Maktoum.
Talks were held during which delegations of the two countries stressed their keenness to enhance bilateral cooperation in various fields to accomplish their common interests.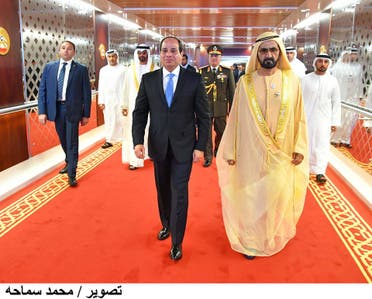 The two sides affirmed their intensive coordination and consultation along with the brotherly Arab countries to address the challenges and crises confronting the Arab nations and to address the interference in their internal affairs in a manner that aims at destabilizing the security and stability of the region and its general public.
The Egyptian president asserted that the gulf states' security is an integral part of Egypt's national security.
The spokesman said that the talks between the two sides discussed the enhancement of bilateral relations in various fields and ways of developing them, in continuation of the fruitful cooperation between them.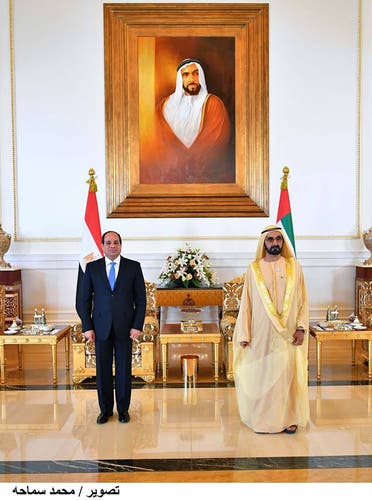 The two sides agreed on the importance of firmly addressing terrorism and extremism and to promote joint Arab action to combat it, after it has become a threat to the security and stability of the region as a whole.
During the talks, a comprehensive strategy was set up to prevent terrorist organizations from acquiring weapons, money and armed forces, as well as stop them from getting the political cover and media platforms.
Shaikh Mohammed bin Rashid Al Maktoum and Sheikh Mohammed Bin Zayed affirmed the UAE's support for Egypt on its war against terrorism, considering it the frontier of security and stability in the Arab world.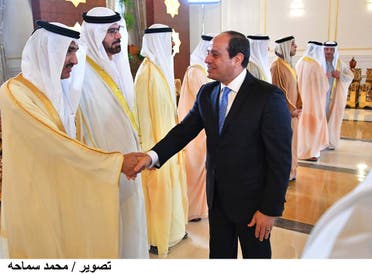 The spokesman added that the two sides expressed their support for the efforts to reach political solutions addressing crises in the region, stressing the support of the sovereignty of their countries and of their central governments and territories, while maintaining their unity and protecting their nations.