US Secretary of State Rex Tillerson said on Thursday Hezbollah's growing arsenal and its involvement in regional conflicts threatened the security of Lebanon.
He said that Hezbollah "is a terrorist organization" and there is no distinction between its political and military wings."
He stressed that "Hezbollah has increased the conflict in Syria and the region" and it must stop its activities abroad.

Tillerson, in a Beirut news conference, also urged Lebanese leaders to uphold the country's commitment to staying out of regional conflicts.
Tillerson said in a joint press conference with Lebanese Prime Minister Saad Hariri that Washington was engaging with Lebanon and Israel to ensure the border remained calm.
"Hezbollah is not just a concern for the United States. The people of Lebanon should also be concerned about how Hezbollah's actions, its growing arsenal, bring unwanted and unhelpful scrutiny on Lebanon," Tillerson said in Beirut.
"Hezbollah entanglement in regional conflicts threatens the security of Lebanon and has destabilizing effects on the region," he said of the Iran-backed Shiite movement, which is part of the Lebanese government.
Hezbollah, branded a "terrorist" organization by the United States, is a key ally of Syrian President Bashar al-Assad and has fighters on the ground in the war-torn country supporting the regime.
"Their presence in Syria has perpetuated the bloodshed, increased the displacement of innocent people and propped up the barbaric Assad regime," Tillerson said at the news conference with Lebanese Prime Minister Saad Hariri.
Tillerson added that he had not asked Lebanon "to give up anything" on its dispute with Israel over their maritime border.

"We are looking for a solution," he said.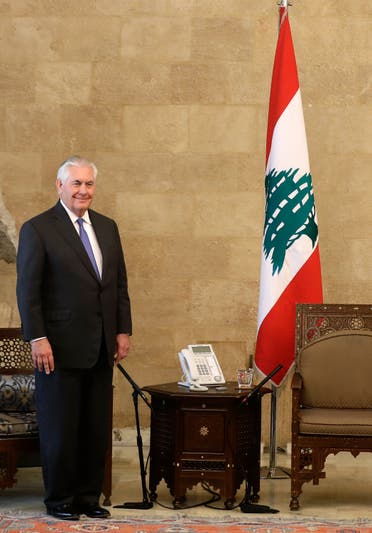 On Wednesday, speaking in Amman, Tillerson had appearing to soften Washington's tone, conceding that Hezbollah is part of the "political process" in Lebanon.
Hezbollah's influence was at the heart of a political crisis in Lebanon over Hariri's shock resignation announced from Saudi Arabia in November that was later rescinded.
Tillerson's visit comes at a time of tension between Lebanon and Israel -- which fought a devastating war with Hezbollah in 2006 -- over issues such as offshore energy exploration.
Lebanon is upset about Israel's construction of a dividing wall along the border between the two countries, which are still technically at war.
Lebanon says part of the wall follows the UN-demarcated "Blue Line" that was drawn up after Israel withdrew from southern Lebanon in 2000, and insists some sections will cut into its territory.
"We are engaging with the governments of both Lebanon and Israel to ensure Lebanon's southern border remains calm," Tillerson said.
"And we remain committed to helping Lebanon and the Lebanese people prosper through the development of their natural resources in agreement with all of their neighbors."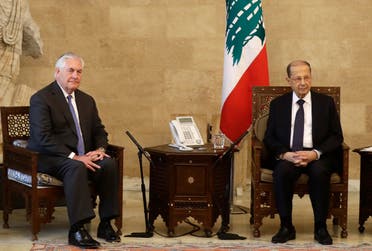 US Secretary of State Rex Tillerson arrived in Lebanon on Thursday for a short visit, during which he was expected to announce a firm stance against the militia.
Rex Tillerson's six-hour visit, amid tight security, is the first visit by a US official in four years.
Tillerson met Lebanese President Michel Aoun and Parliament Speaker Nabih Berri and Prime Minister Saad Hariri.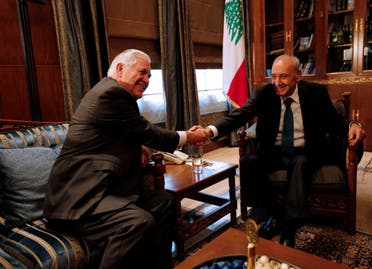 (With Reuters and AFP)