Doctors without Borders (Médecins Sans Frontières/MSF) has said that at least 13 hospitals and clinics in Syria's Eastern Ghouta that are regularly or ad-hoc supported by organization have been hit, damaged or destroyed over the past three days.
The onslaught of Assad regime raids has killed at least 250 civilians within the last 48 hours, 57 of them children.
"The need for life-saving care is as high now in East Ghouta as we have known since the start of the war," said Lorena Bilbao, MSF Operations Coordinator for MSF programmers in Syria.
"We are able to maintain supply lines of some basic medical essentials to the facilities we support, and we are also providing ad-hoc medical donations to facilities we do not regularly support when they are in dire need. But there are some things we do not have access to which could make a material difference to the life-saving work of the Syrian medics on the ground. We make a plea to those in and around East Ghouta with medical supplies to urgently grant access to those stocks to the medics in East Ghouta – lives depend on it."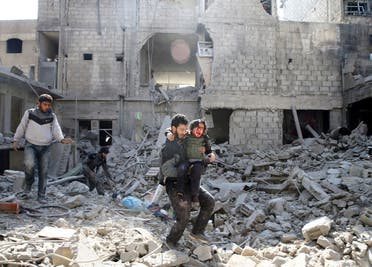 This comes as Russia has called for a UN Security Council meeting to be held Thursday on the violence engulfing the Syrian rebel-held enclave of Eastern Ghouta, Ambassador Vassily Nebenzia said.
Nebenzia told the council that the open meeting would allow all sides to "present their vision, their understanding of the situation and come up with ways of getting out of this situation."