Dozens of women gathered in front of the Iranian Ministry of Labor on Thursday, which coincided with Women's Day, to call for more rights, while security forces closed roads around the ministry and deployed troops in the area, according to local media outlets.
A week ahead of the demonstrations, several social media campaigns were launched by activists in the country urging the need for better women's rights in Iran.
According to local newspapers, Iranian security took fierce measures against the protestors to prevent violent outbreaks during which several activists were arrested, they added.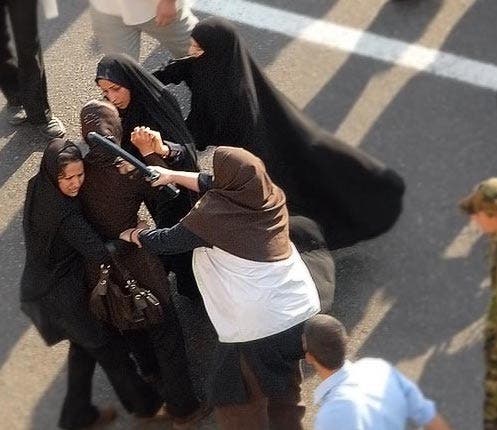 Security forces also prohibited demonstrators from grouping in front of the ministry, reported German news agency Deutsche Welle.
They also "closed all the alleys and pedestrian bridges leading to the headquarters of the Ministry of Labor and deployed troops in the region," tweeted Iranian Journalist Farzana Ibrahim Por quoting eyewitness accounts.
Silence not an option
She continued saying: "I have never seen such a security environment before. They did not allow us to stand for a single moment. The place was crowded with police cars transporting detainees, guidance patrol, motorbikes and security personnel whom were dresses in civilian clothing."
In recent months, several women in the country have protested against the enforced hijab law by removing the head piece and calling for change.
Since December, around 30 women have been arrested in Tehran for defying the requirement under Iran's Islamic legal code to wear a headscarf.
While the government continues to prosecute those who step out of line, both the young and old are putting aside fear and stepping out of the shadows.