Turkey turned up the heat on Syria's Afrin on Wednesday, as pro-Ankara forces bombarded the Kurdish enclave and closed in on its main city.
The development -- which could redraw the map of northern Syria as the conflict enters its eighth year -- came as Russian-backed regime forces pounded shrinking rebel pockets in Eastern Ghouta near Damascus, killing 31 civilians.
Turkish-led bombardment killed 10 civilians in Afrin city, which lies in the heart of a Kurdish-majority enclave against which neighbouring Turkey launched a deadly ground and air offensive on January 20.
Afrin's encirclement "will have been completed by the evening", a Turkish presidency source said Wednesday, toning down President Recep Tayyip Erdogan's earlier statement saying it would fall by evening.
Before the retraction, Erdogan had told supporters in Ankara he hoped "Afrin will, God willing, have completely fallen by the evening."
A top official in the Kurdish People's Protection Units (YPG), which controls Afrin, laughed off the claim.
"It sounds like Turkish President Recep Tayyip Erdogan is daydreaming when he says Afrin will fall tonight," Redur Khalil told AFP.
Turkish and allied forces have almost encircled Afrin city, from which thousands started fleeing when it became apparent Ankara's goal was nothing short of full capture.
Strike on regime loyalists
On Wednesday, Turkish bombing raids killed 10 fighters loyal to the regime, which last month deployed pro-government forces after the Kurds asked for help.

"The air strikes targeted a checkpoint on the only road leading from Afrin to regime-controlled territory to the southeast," said the Britain-based Syrian Observatory for Human Rights.
SEE ALSO: 'Tremendous battles' still loom in Syria, says UN adviser Egeland
Displaced families have swelled the city's population to around 350,000, and officials feared a humanitarian crisis should Turkish forces draw closer.
Shells rained down on Afrin city on Wednesday, killing 10 civilians including four children.
Earlier, dozens of desperate residents were seen lining up outside a bakery distributing free bread.
"Regardless of who will win in the end, as soon as the battle for this small pocket begins, it will mean a massacre against civilians," said YPG media adviser Rezan Hedo.
The Observatory said on Wednesday that Turkey-led forces controlled 70 percent of the wider Kurdish enclave, after seizing several villages.
On the outskirts of Damascus, hundreds of kilometers (miles) south of Afrin, another humanitarian emergency was unfolding in Eastern Ghouta.
For nearly a month, Moscow-backed Syrian government forces and allied militia have waged a devastating air and ground assault that has killed more than 1,220 civilians.
The United Nations has called for urgent medical evacuations for more than 1,000 people who desperately need medical treatment outside the besieged area.
A trickle of evacuations from Ghouta's largest town Douma began Tuesday under a deal with rebels, and more patients were allowed out Wednesday.
Dozens awaiting evacuation gathered at a Red Crescent center in Douma on Wednesday morning, an AFP correspondent reported.
They crowded around buses and ambulances, with Syrian Arab Red Crescent members checking names on a list.
Among them, 18-year-old Omran stood leaning on crutches. Badly wounded two years ago in bombardment on Ghouta, he was missing his left leg, right arm, and left eye.
Red Crescent workers carefully carried a wincing young girl from her wheelchair into an ambulance. On a nearby bus an elderly man clutched his belongings and appeared to be praying under his breath.
"We haven't been able to treat some of these cases for more than a year," said Mohammed al-Marhum, a doctor.
The patients were transported to the government-controlled Wafideen checkpoint on the edges of Ghouta.
An AFP correspondent at Wafideen saw around two dozen civilians arrive, including a wheelchair-bound man being helped by Red Crescent volunteers.
The Jaish al-Islam rebel group that controls Douma said around 35 sick and wounded were to be evacuated Wednesday, along with their companions.
The Observatory said more than 220 people including 60 patients had left the rebel enclave in two days of evacuations.
Deadly raids on Ghouta
The UN Security Council demanded a 30-day truce last month to allow for aid deliveries and medical evacuations from Ghouta. Such evacuations in Syria typically see people taken out of a besieged area for care, and then transported back in after treatment.
The Syrian government's assault on Ghouta has split the enclave into three sections, each controlled by different rebels.
The regime has reportedly been pursuing separate tracks of negotiations to secure local truces or evacuations from each zone.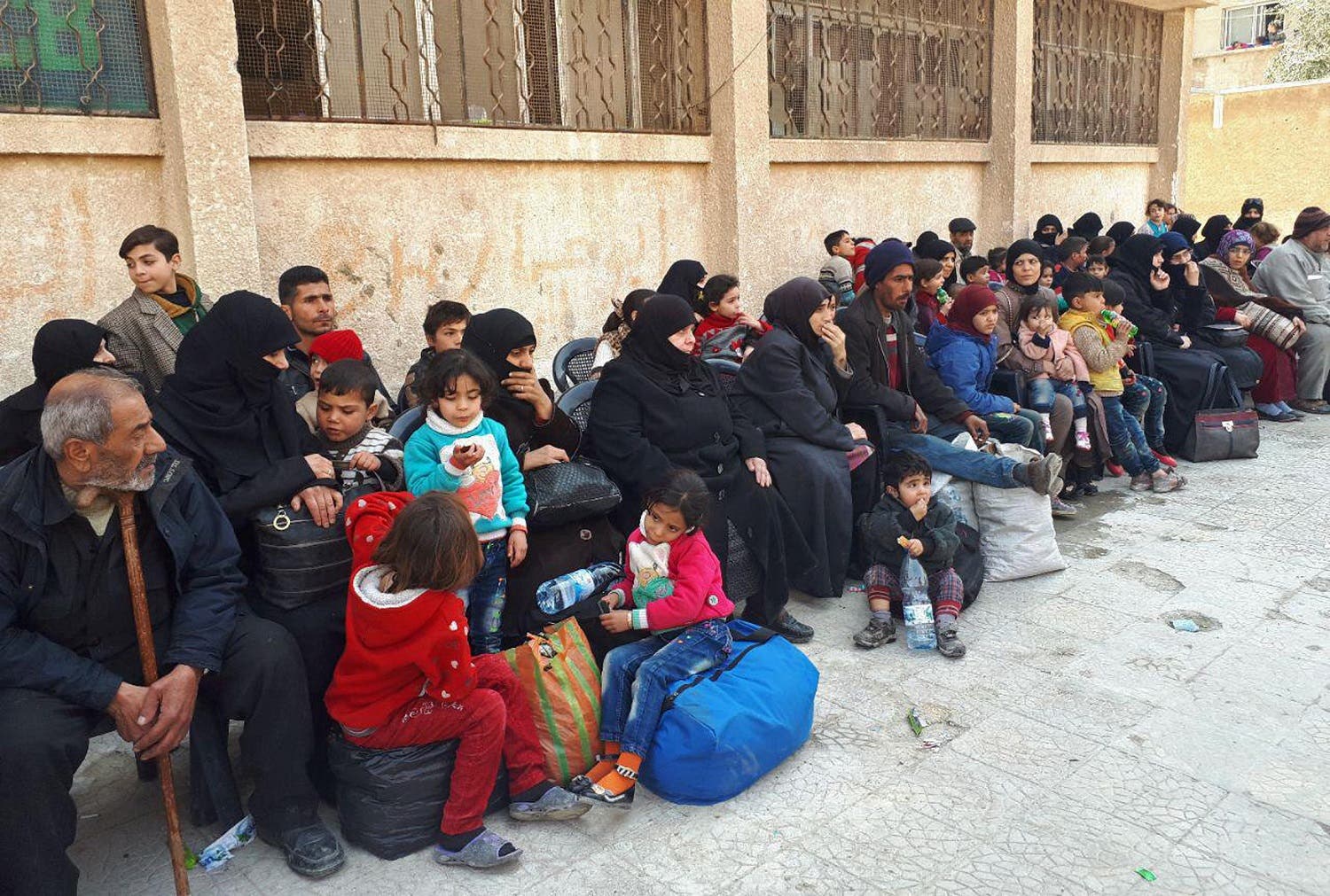 The International Committee of the Red Cross said any evacuations must be carried out "humanely". It said evacuees should be allowed freedom of movement, access to medical care, and a safe return to their homes.
The Russian military said the situation in Douma had "significantly stabilized" and an aid convoy of 20 vehicles was planned to enter the enclave on Thursday.
Fresh regime and Russian bombardment o Wednesday killed at least 31 civilians in an isolated southern zone of Ghouta, the Observatory said.
State news agency SANA said five civilians died of their wounds after shelling on Damascus.
Moscow's strikes also killed a dozen rebels from the Faylaq al-Rahman faction controlling the area, including two top commanders, the monitor said.
Russian Foreign Minister Sergei Lavrov said on Wednesday Ghouta rebels were planning to stage a chemical attack to give the US-led coalition the pretext to strike Damascus.
His comments came as his Turkish counterpart visited Moscow for talks.
More than 350,000 people have died since Syria's conflict erupted in 2011.