Regime seizes two towns from rebels in Syria's Ghouta, as 7,000 leave enclave
Syria's regime retook two more towns in Eastern Ghouta on Saturday, a war monitor said, pressing an offensive to capture the rebel enclave on the doorstep of Damascus.
Government forces seized Kafr Batna and Sabqa in the south of the enclave, the Britain-based Syrian Observatory for Human Rights said, as thousands of civilians fled into regime-held territory.
Civilians leave rebel pocket
The Syrian Observatory for Human Rights said the number of Syrians leaving a rebel pocket in Syria's eastern Ghouta toward government lines on Thursday had climbed to at least 7,000.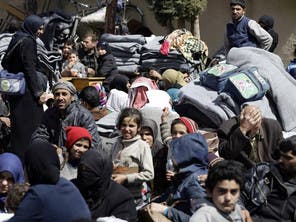 The people left Hammouriyeh, which government forces advanced into on Thursday, and other towns nearby, said Rami Abdulrahman, director of the UK-based monitor.
Also, air strikes on Syria's Eastern Ghouta killed 30 civilians on Saturday, a monitor said, almost a month into a blistering Russia-backed regime assault on the rebel enclave outside Damascus.
The Britain-based Syrian Observatory for Human Rights could not say who carried out the strikes on the town of Zamalka.
The regime offensive has retaken 70 percent of the enclave since February 18.
(With Agencies).