The Syrian army is preparing to launch a "huge" operation against the last rebel-held town in eastern Ghouta unless the Jaish al-Islam insurgent group agrees to hand over the area, a pro-Syrian government newspaper reported on Wednesday.

The group has been negotiating about the town of Douma with the government's main ally Russia. But a commander in the regional alliance fighting in support of President Bashar al-Assad said late on Wednesday that the talks had stopped.

"The negotiations stopped. Most of the militants have set out big conditions, and the Russians and the Syrians have refused them," the commander said.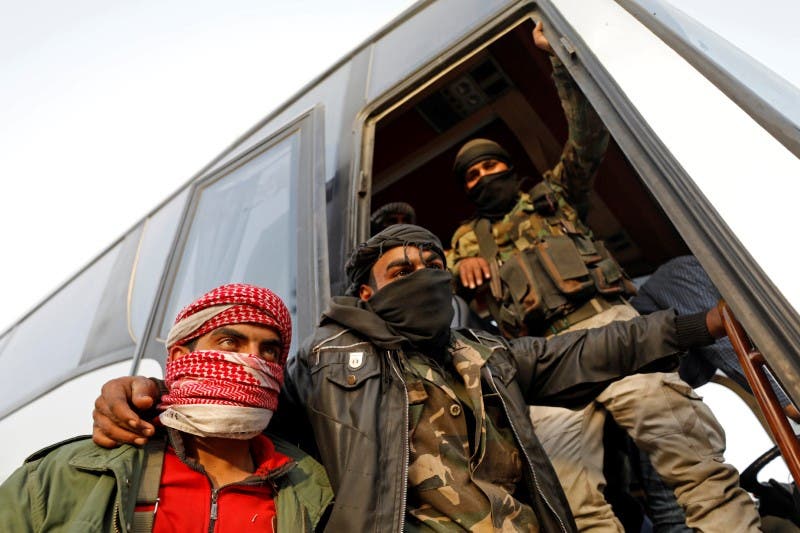 مقاتلون من المعارضة السورية يستعدون لمغادرة الغوطة الشرقية)26 مارس)


A war monitor, the Syrian Observatory for Human Rights, said the Syrian military had resumed artillery bombardment of Douma, where blasts were heard.

Routed by the Russian-backed Syrian army, rebels in other parts of eastern Ghouta are leaving in convoys to insurgent-held areas in the northwest under withdrawal deals that are restoring Assad's control.

Douma's fall would seal the rebels' heaviest defeat since 2016, driving them from their last big stronghold near the capital, and would also carry potent symbolism. The town was the main center of street protests in the Damascus suburbs against Assad's rule that ignited the conflict seven years ago.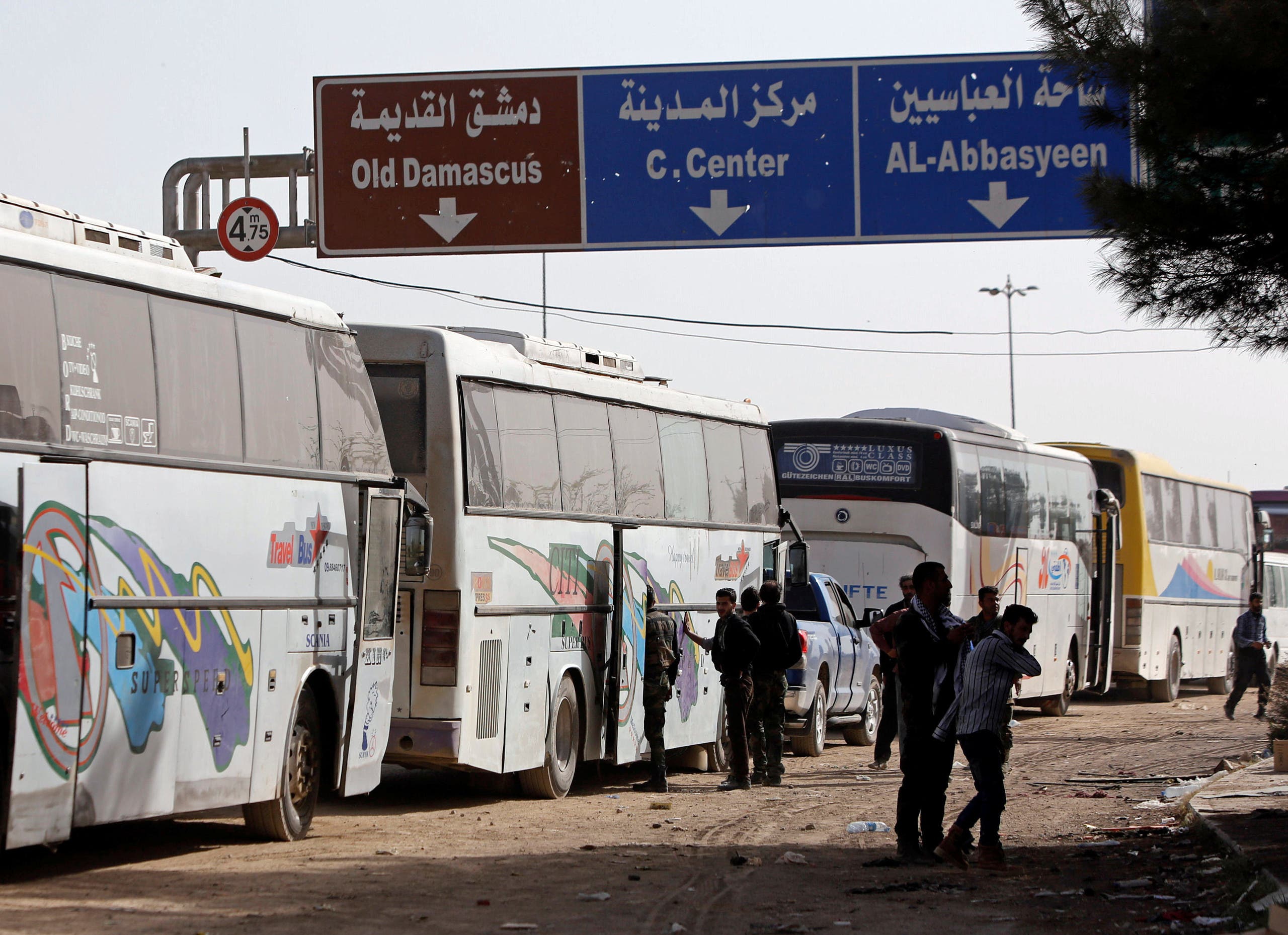 باصات تخرج من الغوطة


Backed by Russia and Iran, the government has repeatedly forced rebels to surrender areas and withdraw to Idlib, where the United Nations describes the conditions faced by hundreds of thousands of displaced opposition supporters as "catastrophic".

The Jaish al-Islam group says it is determined to stay in Douma, where tens of thousands of civilians are surrounded by government forces. The government says it will crush any rebels who do not agree to leave or to live under state rule.

"The forces deployed in Ghouta are preparing a huge military operation in Douma if the Jaish al-Islam terrorists do not agree to hand over the city and depart," al-Watan newspaper said.
Two decisive days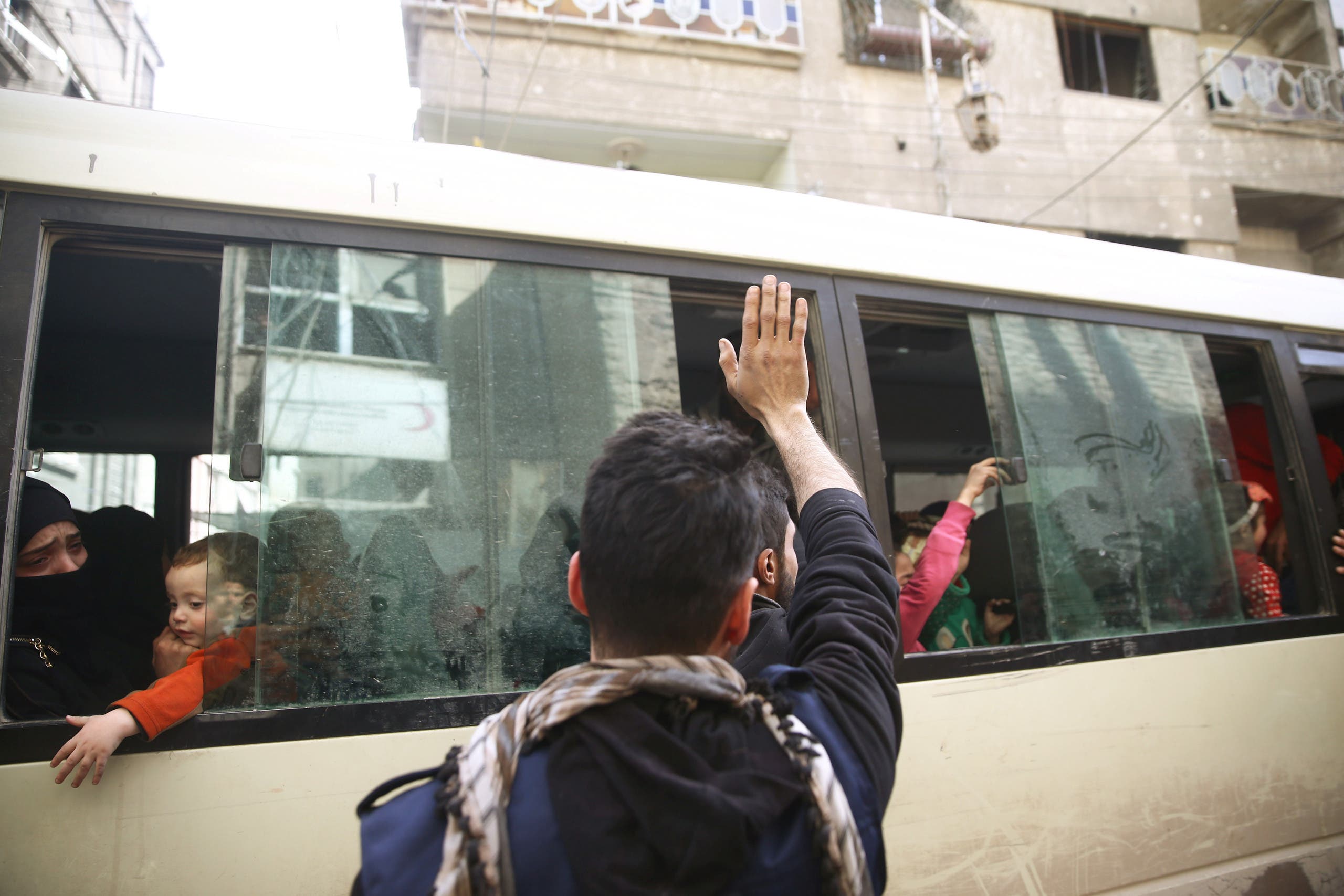 Douma eastern ghoura syria evacuating bus. (Reuters)


A witness in Douma reached by telephone said dozens of residents took to the streets of the city on Wednesday calling on rebels and opposition-led authorities negotiating with the Russians to reveal more information about the talks.

Although Jaish al-Islam denies planning to leave, two rebel sources said the fighters are weighing options including leaving for rebel-held areas further northeast in Qalamoun, or in southern Syria, despite some opposition by rival rebels there.

The Syrian military backed by Russian firepower has overrun most of eastern Ghouta in an operation that began on Feb. 18. More than 1,600 people have been killed in some of the fiercest bombing of the war, and thousands more have been injured, according to rescuers and a war monitor.
SHOW MORE
Last Update: Wednesday, 20 May 2020 KSA 09:51 - GMT 06:51