US President Donald Trump said Monday that "major decisions" would be made on a Syria response in the next day or two, after warning that Damascus would have a "big price to pay" over an alleged chemical attack on a rebel-held town.
Trump condemned what he called a "heinous attack on innocent" Syrians in Douma, as he opened a cabinet meeting at the White House.
The suspected gas attack left dozens dead, according to rescuers and medics. Syria and its ally Russia have denied any use of chemical weapons.
"This is about humanity -- it can't be allowed to happen," Trump said, adding that decisions would come in the "next 24-48 hours."
President Donald Trump on Sunday condemned a "mindless CHEMICAL attack" in Syria that killed women and children, called Syrian President Bashar Assad an "animal" and said there would be a "big price to pay" for resorting to outlawed weapons of mass destruction.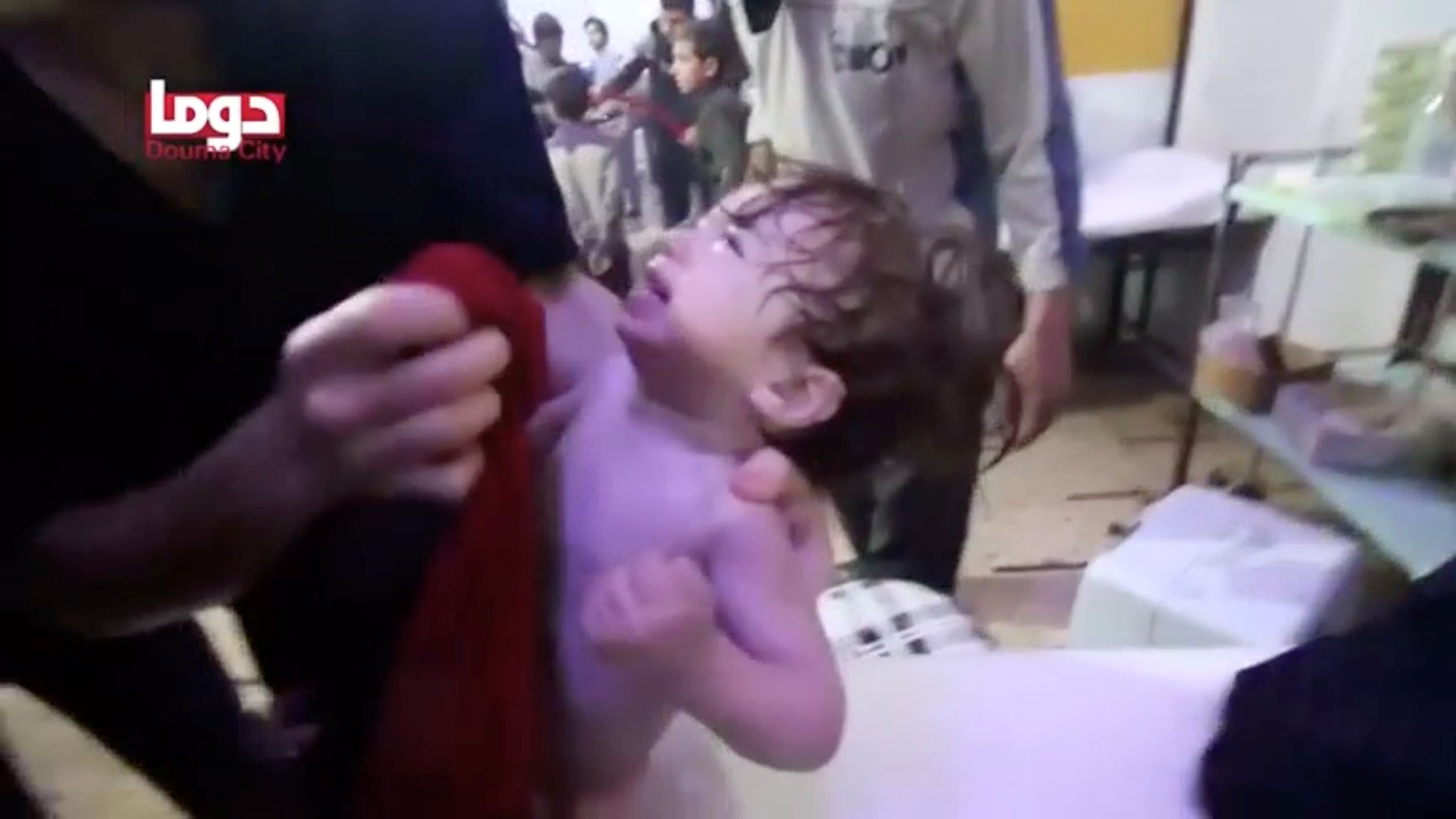 Hours later, Syria's state-run news agency reported a missile attack early Monday at an air base in Syria's Homs province and labeled it a "likely" US aggression. However, a Pentagon spokesman quickly denied the US was behind the strike.
The United States on Monday asked the UN Security Council to set up a new independent inquiry of chemical weapons attacks in Syria following alleged chlorine use in a rebel-held town that killed at least 48 people.
Washington circulated a draft resolution to the council that would establish the UN panel to identify those responsible for the toxic gas attacks, according to the text obtained by AFP.
In the wake of the reported poison gas attack, officials in Washington worked Sunday to verify the claim by Syrian opposition activists and rescuers that the Assad government was responsible.
Just over a year ago, Trump ordered dozens of cruise missiles to be fired at a Syrian air base after declaring there was no doubt Assad had "choked out the lives of helpless" civilians in an attack that used banned gases. White House advisers said at the time that images of hurt children helped spur the president to launch that air strike, and television new shows on Sunday aired similar depictions of suffering young Syrians.
"Many dead, including women and children, in mindless CHEMICAL attack in Syria," Trump tweeted. "Area of atrocity is in lockdown and encircled by Syrian Army, making it completely inaccessible to outside world. President Putin, Russia and Iran are responsible for backing Animal Assad. Big price to pay. Open area immediately for medical help and verification. Another humanitarian disaster for no reason whatsoever. SICK!"
40 people killed
Saturday's attack took place in a rebel-held town near Damascus amid a resumed offensive by Syrian government forces after the collapse of a truce. Syrian activists, rescuers and medics said a poison gas attack in Douma killed at least 40 people, with families found suffocated in their houses and shelters. The reports could not immediately be independently verified.
The developments come as Trump has moved to dramatically scale back US goals in Syria, pushing for a quick military withdrawal despite resistance from many of his national security advisers. Trump has given no formal order to pull out the 2,000 US troops in Syria or offered a public timetable other than to say the US will withdraw as soon as the remaining Islamic State fighters can be vanquished.
But Trump has signaled to his advisers that, ideally, he wants all troops out within six months.
Republican Sen. John McCain of Arizona said Assad heard Trump's signal that he wanted to withdraw from Syria and, "emboldened by American inaction," launched the attack. In a statement, McCain said Trump "responded decisively" last year with the air strike and urged Trump to be forceful again to "demonstrate that Assad will pay a price for his war crimes."
Images released by the Syrian Civil Defense White Helmets, a volunteer organization, show children lying on the ground motionless and foaming at the mouth. The Assad government, in a statement posted on the state-run news agency SANA, denied responsibility.
Trump was briefed about the attack by his chief of staff, John Kelly, officials said. Trump's homeland security adviser, Thomas Bossert, noted the timing of the suspected chemical attack - almost a year to the day of the US missile strikes.
"This isn't just the United States. This is one of those issues on which every nation, all peoples, have all agreed and have agreed since World War II, it's an unacceptable practice," Bossert said.
Asked about the potential for an American missile strike in response, Bossert said: "I wouldn't take anything off the table. These are horrible photos. We're looking into the attack at this point."

Trump was to meet with his senior military leadership on Monday, the same day his new national security adviser, John Bolton, assumes his post. Bolton has previously advocated significant airstrikes against Syria.
Vice President Mike Pence on Sunday deemed it a "likely chemical attack" and reiterated Trump's threat that consequences would be coming for those responsible.
"We condemn in the strongest possible terms the assault on innocent lives, including children," Pence tweeted. "The Assad regime and its backers MUST END their barbaric behavior."
Russia's support of Assad
Trump's decision to single out Russian President Vladimir Putin in a tweet for supporting Assad appeared noteworthy because Trump long has been reluctant to personally criticize the Russian leader. Even as the White House, after some delay, imposed tough new sanctions on Russia in the wake of its US election meddling and suspected poisoning of a former spy on British soil, Trump left it to others in his administration to deliver the rebukes to Moscow.
Last month, Trump called Putin and, against the counsel of his advisers, congratulated the Russian president on his re-election and invited him to the White House. On Sunday, Sen. Susan Collins, R-Maine, urged Trump to "ramp up the pressure and the sanctions on the Russian government, because, without the support of Russia, I do not believe that Assad would still be in office."
Trump also invoked Iran in his series of tweets, further challenging Tehran while signaling he may scuttle its nuclear deal with the West. The president has often laid some blame on his predecessor, Barack Obama, for Assad's continued grip on power after years of civil war.
With (AFP)