Russia reportedly moves 11 vessels from Syria's Tartus ahead of possible US strike
Recent satellite images by the Israeli company ImageSat International (ISI) showed that almost all Russian vessels in the naval base of Tartus have departed ahead of US threats to militarily strike Syria.

ISI images on Wednesday showed that most of Russia's 12 military and cargo ships and submarines that are usually present in the base, which Russia has a 74-year lease on, have departed, and only one, a Kilo-class submarine, is still docked there.

According to ISI assessment, Russia had deployed the other 11 vessels in the sea in preparation for a possible strike.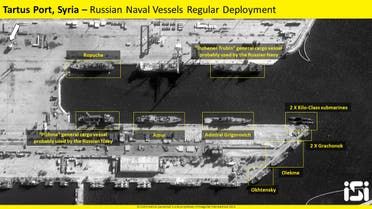 United States President Donald Trump tweeted on Wednesday that Russia should be on standby as Washington prepares a response after the chemical attacks that hit Syria's Douma earlier this week.

Meanwhile, the Kremlin said it would not take part in "Twitter diplomacy."

On Tuesday, Russia's ambassador to Lebanon Alexander Zasypkin said any US missiles fired at Syria would be shot down and the launch sites will be targeted.

According to some reports, the US has marked 22 targets in Syria.