A Palestinian baby died from tear gas inhalation at the Gaza border protests, the Gaza Health Ministry said on Tuesday,
The Palestinian death toll in the border protests has now risen to 61, most killed by Israeli army fire.
The ministry says six of those killed by gunshots were minors.
It says more than 2,700 people were injured Monday, including 1,360 by live fire. Of the wounded, 130 are in serious or critical condition.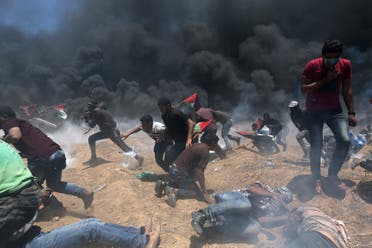 The ministry did not say how the baby was exposed to tear gas.
On Monday, tens of thousands of Palestinians rallied near Israel's border fence to protest a blockade of their territory and the move of the US Embassy to contested Jerusalem that day.
It was the deadliest day in Gaza since a 2014 war between Israel and Gaza's ruling Hamas.
US blocks probe
The United States on Monday blocked the adoption of a UN Security Council statement that would have called for an independent probe of deadly violence on the Israel-Gaza border, which erupted as the new US embassy in Jerusalem was opened, diplomats said.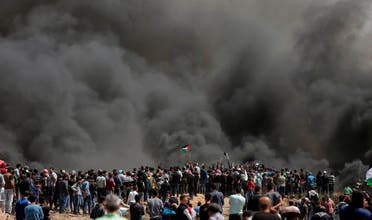 "The Security Council expresses its outrage and sorrow at the killing of Palestinian civilians exercising their right to peaceful protest," read a draft of the statement, a copy of which was seen by AFP.
"The Security Council calls for an independent and transparent investigation into these actions to ensure accountability," read the text.
(With AP)