Egyptian President Abdel Fattah al-Sisi replaced the interior and defense ministers in a major reshuffle Thursday, with security forces battling an insurgency at the start of his second term.
Sisi, who also named a new finance minister, swept to another four years in office at elections in March, pledging to tackle the raft of security and economic challenges facing the country.
Egyptian forces have since February been waging a sweeping operation against the local affiliate of ISIS in the restive North Sinai province.
The new cabinet under freshly appointed Prime Minister Mostafa Madbouli, who previously served as housing minister, was sworn in live on state TV.
General Mohamed Ahmed Zaki Mohamed, who led the republican guard since August 2012, became the new defense minister in place of Sedki Sobhi.
Sobhi had held the post since taking over from Sisi when he ran for the top office in 2014, a year after spearheading the ouster of president Mohamed Mursi during mass protests.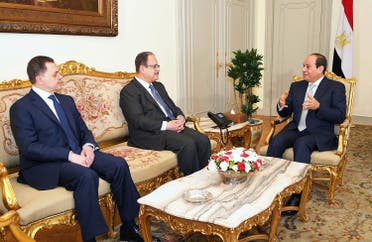 The position of interior minister was filled by General Mahmoud Tawfiq, who had led the national security apparatus since October 2017, replacing Magdi Abdel Ghaffar.
New Finance minister
Mohamed Ahmed Mohamed Moeet, who has previously held several government posts in various ministries, replaced Amr el-Garhy in the key role of finance minister.
Egyptian authorities are implementing a sweeping economic reform program that prompted the International Monetary Fund to approve a three-year, $12-billion loan in November 2016.
Authorities have since also floated Egypt's currency, cut fuel subsidies and adopted a value added tax, measures which have led to soaring consumer prices.
Other changes included the ministers overseeing aviation, health, communications, environment, commerce and agriculture.
The former cabinet resigned on June 5, days after Sisi was inaugurated for a second term.
Sisi has long promised to wipe out the insurgency in the Sinai as a spate of deadly attacks have hit the country.
Officials say more than 200 militants and at least 35 soldiers have been killed since the military launched the "Sinai 2018" operation.