Row over rape of dozens in Iranian city as woman MP accuses 'influential' people
Tens of Iranian women demonstrated in front of the offices of the governor of Iranshahr city in Baluchestan province southeast of Iran on Tuesday, denouncing reports of an incident involving rape of dozens of women.
According to sources, as many as 41 women could have been raped in the city.
Though details surrounding this report are still vague, some sources suggested that those responsible for these rapes are backed by "influential parties," even though an Iranian female MP said that Iran's general prosecutor has announced several arrests related to the case.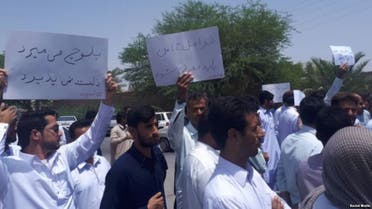 Females protesters called urged the authorities to open an investigation into the case and prosecute the culprits.
Iran's Interior minister Abdullreda Rahmani Fadli ordered an urgent investigation to establish the circumstances of the incident following protests in Iranshahr. This was after news spread claiming that an influential person, along with members of his clan, had kidnapped 41 girls in recent days and raped them.
The minister called upon the people of Baluchestan - which has a large population marginalized due to poverty- "to prevent exploitation of emotions and harassment", the Fares news agency reported.
The Iranian General prosecutor has threatened to sue an Imam, Sheikh Abdul Hamid Ismail Zahi, a prominent religious leader in Baluchestan, called on the families of the girls to file court case.
Rich and powerful
In the wake of the continuing protests, authorities in Iranshahr announced the arrest of three other persons involved in the crime.
Woman MP Tyba Siyawoshi, who heads a women committee in the Iranian parliament, told IRNA news agency on Monday that upon her follow up on the case from unofficial sources, it is reported that the accused is from a wealthy family and is backed by senior figures in the regime".
While the official Iranian media, especially radio and television, have kept silent over this incident, public uproar have surfaced on social media.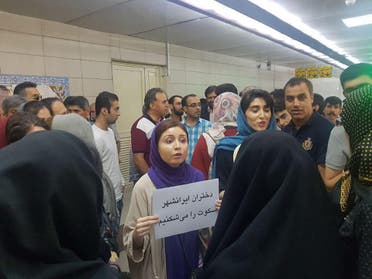 Protection of women
Many activists have called for the protection of girls in the city of IranShahr and they launched the Hashtag #Dakhtran-Iranshahr (Iranshahr Girls).
"The source of the news is the father of one of the girls who was raped, and he came to him crying as a result of what happened to his daughter," Sheikh Mohammad Tayeb Mullah Zhi said in a sermon on Eid al-Fitr.
He added that the girl's father confirmed that during the last days of the month of Ramadan his daughter was kidnapped for one day and was raped and then thrown on the street.
Iranshahr's Imam said that the internal migration of people from different cultural backgrounds to the conservative city, which is a commercial hub, has caused such an incident.