Al Arabiya reporting from inside 'Free Iran' opposition conference in Paris
Al Arabiya News Channel revealed that the annual conference of the exiled National Council of Resistance of Iran headed by the Mujahedeen-e-Khalq (MeK) due on Saturday in Villepinte in Paris, will host a number of American officials who are expected to unveil the American administration's new strategy towards the Islamic Republic.
Among the expected American officials to attend the conference, US president Donald Trump's personal lawyer Rudy Giuliani and advisor Newt Gingrich.
It is worth mentioning that the controversial Iranian opposition group (MeK) was designated during former US president Barak Obama as a terrorist group and until 2012, but today this group is being marketed under "Change in Iran" in a direction that reflects the seriousness of Trump's administration in gathering dissenting Iranian opposition forces, in order to find a democratic political alternative to Wilayat al-Faqih doctrines.
Iranian pressures on France
The Iranian government had officially protested to France for allowing the Organization to hold activities and conferences.
During his meeting with French Foreign Ministry Secretary-General Maurice Gordo Montaigne last week in Tehran, the Iranian foreign ministry undersecretary Abbas Arakji called the French government to ban the organization's activities.
This year's conference is characterized by a high-level organization, an intense public presence and the influx of supporters of the Iranian resistance from around the world.
The Paris conference will run for two days in the presence of delegates and international figures from the international community and the Arab world.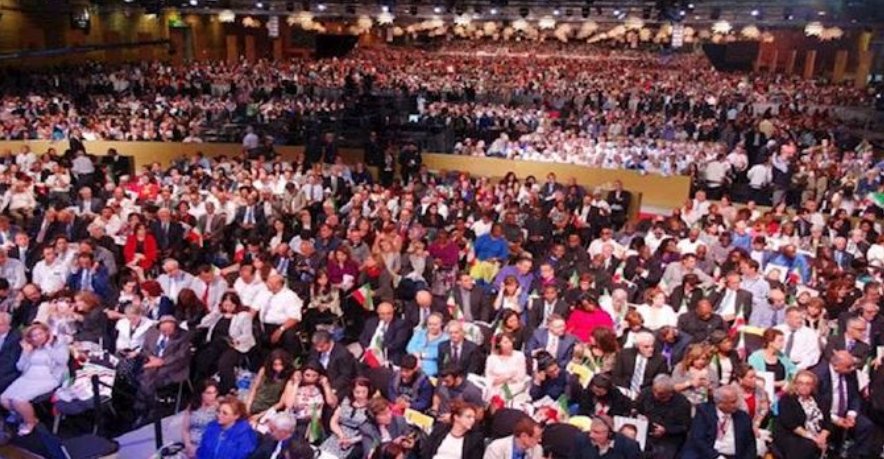 In an interview with Al Arabiya News Channel, Mousa Afshar, the Arabic media spokesperson in the foreign affairs' committee for the National Council of Resistance of Iran, said that the Iranian regime increased its political and diplomatic pressures on France to discourage it from allowing the conference to go on.
US administration hawks
The hawks of the American administration, some of whom will attend Paris conference, point out to the need to implement a plan that will eventually bring down the rogue regime and replace it with a democratic system that will restore Iran as a peaceful state that respects the rights of its people and coexist peacefully with its neighbors and the world.
John Bolton, the former American ambassador to the UN, before being appointed national security advisor at the White House, said in statements that he "does not like to allow the Mullahs to celebrate the 40th anniversary of their regime," due in 2019, reviving hopes of a US plan to overthrow the Islamic Republic.
But Washington's official position was declared by US Secretary of State Mike Pompeo, who has repeatedly stressed that the United States would not take any military action to topple the Tehran regime, but said it would support any peaceful and democratic movements aimed at change in Iran.