WATCH: Syrian student reunites with family after being detained for 5 years
Syrian University student, Muhannad al-Hassani, reunited with his family after having been detained by the Assad regime for five years.
In an emotional video circulated across social media, Hassani is seen embracing his mother and father directly after his release from Assad detention camps.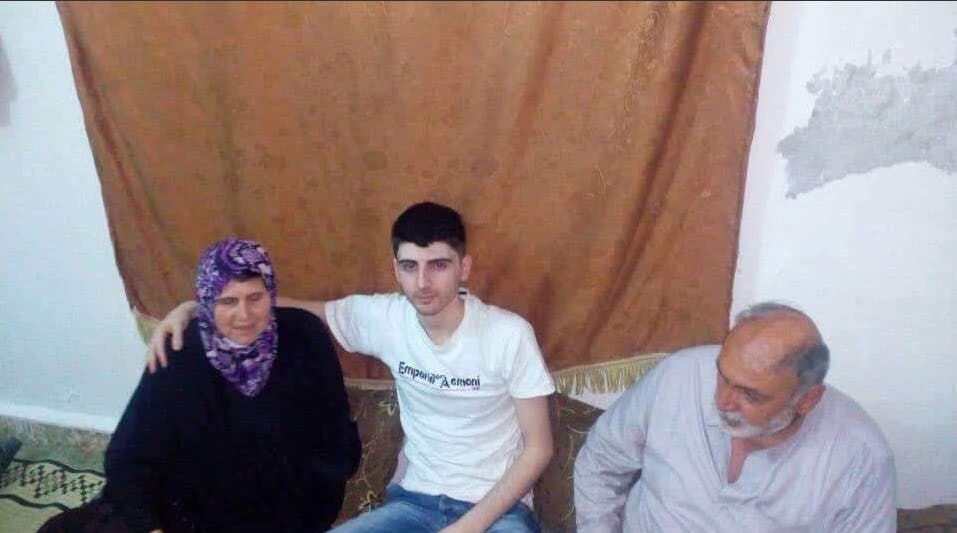 His mother greeted him with hugs and tears mixed with words of joy and praise, while his father could not form words as he held his son. Shying away from the camera, Hassani's father was trying to conceal his tears.
In 2014, during his third-year studying human medicine at the University of Aleppo, Hassani from the village of Kafr Nabel of rural Idlib, was arrested with a group of around 30 colleagues by the Assad regime. Mazin Al- Qarji, who was one of those 30 students, was also released while others were tortured and killed.
Several protests were held by Syrians opposing the Assad regime, calling for the release of Hassani and his colleagues, which brought the case to the attention of the UN, which made efforts to release all the Syrian detainees who had been imprisoned for years by Assad.
Activists have stated that Hassani had spent years of his detention between Adra prison in the Damascus countryside and air force cells in the province of Aleppo.
The Syrian Network of Human Rights announced last December that the number of detainees in Syrian regime prisons exceeds 220,000.
According to various reports issued by the Human Rights Watch, the majority of detainees in Syrian regime prisons are tortured and mistreated.