Ali Akbar Velayati, top adviser of Iran's Supreme Leader Ayatollah Ali Khamenei, visited Russia on Thursday, coinciding with the visit of Israeli Prime Minister Benjamin Netanyahu, carrying a letter from Khamenei to Russian President Vladimir Putin, Iranian news reports have revealed.
While disputes between Moscow and Tehran are reported to have surfaced over the presence of pro-Iranian militias in Syria, Iranian analysts warn of a "US-Russian" deal on Syria to the detriment of Iranian interests.
Meanwhile Iranian news agency IRNA reported that during their meeting on Thursday, Velayati handed Putin two letters, one from Khamenei and the other from Iranian president Hassan Rouhani, without elaborating on their contents.
Iranian analysts speculated that the two letters contain more than an issue, including negotiations on the Syrian crisis, Moscow's demand for pro-Iranian militias to leave Syria, as well as the issue of reducing Iranian oil production and the expected US embargo on Iran's oil exports.
Bilateral discussions between Iran and Russia are also expected to tackle the financial and economic crises in Iran, the collapse of its currency and the problems of banks. The two countries are expected to negotiate a bilateral monetary agreement and the increase of Iranian oil purchases by China.
The presence of these issues, in the letters delivered to Putin, underscores the assertion by Tehran's embassy in Moscow that Velayati will meet the Russian energy minister after his meeting with Putin.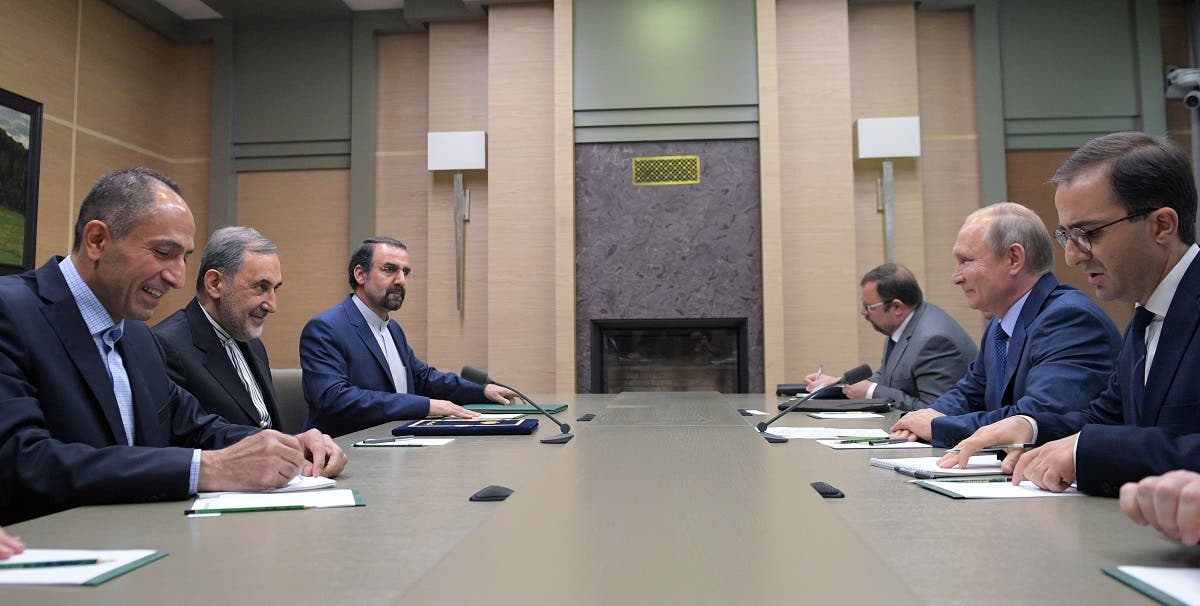 Velayati criticizing Netanyahu
While speculations are rife about a US-Russia deal to put an end to the Iranian presence in Syria, coinciding with Israeli premier's visit to Moscow, Velayati commented: "Netanyahu's visit to Moscow won't have an effect on our strategic mission there" pointing out that "no one cares what the later (Netanyahu) will have to say" as he put it.
Hamid AbuTalbi, an advisor to Iranian president Rouhani, commented on Velayati visit to Moscow adding that relations between the two countries is not a strategic one as Velayati describes it.
"In foreign policy, relations between two countries are considered strategic when both sides consider them as strategic and deal with each other on this basis," AbuTalbi said.
Argentina asks Russia to arrest Velayati
In another development, Argentina has called on Russia to arrest Velayati for his involvement in the 1994 Buenos Aires AMIA Jewish center bombing, which led to the killing of 85 persons and the wounding of 300 others.
According to Russian news agency Sputnik, An Argentine federal judge investigating the 1994 Buenos Aires AMIA Jewish center bombing has asked Russian officials to arrest a high-level Iranian advisor to the country's supreme leader in connection with the attack when he was Iran's foreign minister.
Velayati is among special envoys that Iran is sending to various countries in response to the US withdrawal earlier this year from the 2015 nuclear deal.