Local media outlets in Iraq reported that death toll has now reached to more than 11 people since the outbreak of demonstrations in Basra and other southern cities with the last two casualties falling after demonstrations in the provinces of Najaf and Diwaniyah.
Hundreds of Iraqis in Baghdad and the central and southern provinces of Iraq have staged protests against poor basic services more than 15 years after Saddam Hussein's regime was replaced and pro-Iranian Shiite parties took power in Iraq.
Al Arabiya News Channel's correspondent in Iraq reported that protests returned to central Baghdad with protesters gathering near the Liberation Square off the al-Jumariyah Bridge on Saturday.
Some protesters tried to break into party offices in the predominantly Shiite southern cities, but the guards of the headquarters opened fire with live ammunition, killing several of the demonstrators.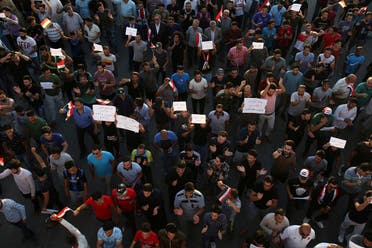 Alaa al-Mayali, one of the protesters from the province of Najaf, said that the guards of the Badr branch close to Iran opened fire on the demonstrators, killing one of them of was throwing stones.
Eyewitnesses in Basra said that the demonstrations on Friday night took another turn in the province, after the intervention of the rapid reaction forces opened fire on protesters in the Garmat Ali area, which led to the outbreak of armed clashes in the areas of the parties in the province.