VOA Persian criticized after translator omits 'Ahwaz Arabs' from Pompeo's speech
The Ahwazi Human Rights Organization have protested a VOA interpreter's omission of a phrase referring to the Arab minority in US Secretary of State Mike Pompeo's speech.
In a speech at the Ronald Reagan Presidential Foundation and Library on Sunday, Pompeo addressed the need to support Iranian voices and said that "it's why the regime arrests hundreds of Ahwazis, members of Iran's minority Arab community, when they speak out to demand respect for their language and for their basic beliefs".
But a VOA Farsi interpreter said in live translation of Pompeo's remarks that "the regime arrests hundreds of 'Azhari' only for their beliefs and language," according to the statement.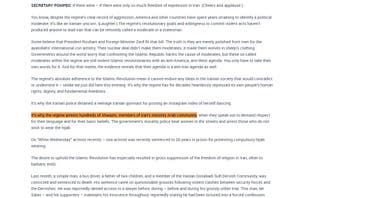 The organization added that the translator assumed that he did not understand the term "Ahwazi" properly and translated "Azhari" instead, but critics doubt how the interpreter did was not able to hear Pompeo's specific definition of "Iran's minority Arab community".
The Ahwazi Human Rights Organization says it has moved since Monday by contacting relevant US government officials to correct the problem and issue a clarification from the channel.
Karim Abdian Bani, director of Ahwaz Human Rights Organization (AHRO), told Al Arabiya English that "the issue of Ahwaz and other nationalities and minorities is now in the corridors of the American administration, thanks to the movement of activists of these peoples in international forums and communicate with the US administration and put the suffering multiplied by their peoples. "