Palestinian attacker who killed Israeli settler and injured two is shot dead
In the latest flare of tension between Israel and Palestinians, a Palestinian attacker was shot dead by the Israeli army after stabbing to death one settler and injuring two others after he infiltrated into an Israeli settlement in the occupied West Bank on Thursday.
According to Al Arabiya correspondent, the Israeli army shot the Palestinian when he attacked the settlers in the settlement of Adam which lies between Jerusalem and the West Bank city of Ramallah.
There was no immediate comment from Palestinian officials.
Reuters news agency reported earlier that medics were treating three people, the Israeli ambulance service Magen David Adom said. One of them was in a critical condition and another sustained serious injuries. The third person was lightly wounded.
"A terrorist infiltrated into the community and stabbed three civilians. The terrorist was shot and killed," the Israeli military said.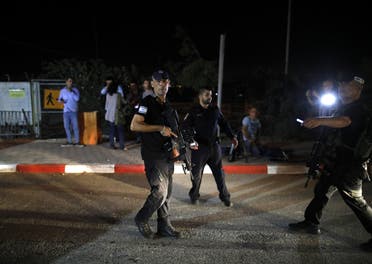 Israeli-Palestinian tensions have surged in the past few months.
At least 140 Palestinians have been killed in the Gaza Strip by Israeli fire in weekly border demonstrations. Israel says Hamas, the Islamist group that rules Gaza is using the protests as cover for a cross-border attacks. Hamas denies this.
Palestinian militants have in recent weeks fired hundreds of rockets into Israel from Gaza and have opened fire at Israeli troops across the border, killing one soldier and drawing fatal Israeli air and tank strikes.
Peace talks between Israel and the Palestinians collapsed in 2014 and a bid by the US administration to restart them has so far shown little sign of progress.
Palestinians want to establish a state in the Gaza Strip, the West Bank and East Jerusalem, territories that Israel captured in the 1967 Middle East war.
Israel pulled out of Gaza in 2005, annexed East Jerusalem in a move not recognized internationally and maintains control over more than half the West Bank, where the Palestinians have limited self-rule.
(With Reuters)