Iraq's top Shiite cleric Ayatollah Ali al-Sistan said on Friday that if the Iraqi government does not abide by its commitments, people will develop other peaceful means of protests to impose their will on the authority, adding that in this situation there will be a different scene which we will regret before it is too late.
Sistani voiced his concerns in his Friday sermon delivered by his Representative Abdel Mahdi al-Karbalai. The sermon was delivered in the Iraqi city of Kerbala.
ALSO READ: Al Sistani: Iraqis should prohibit the return of corrupt people to power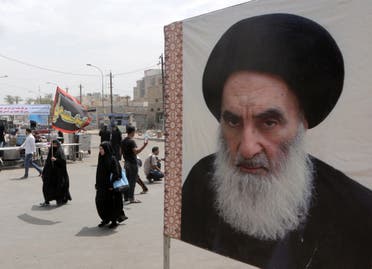 The Iraqi top cleric also called for the formation of a new government as soon as possible, calling for the appointment of a strong and decisive prime minister who can meet the people's demands urgently. He also called for the change of privileges given to some groups in the Iraqi parliament.
Sistani encouraged the incumbent government of Prime Minister Haidar al-Abadi to respond urgently to protesters' demands seeking better basic services and jobs.

"The current government must work hard urgently to implement citizens' demands to reduce their suffering and misery," Sistani's representative said.
Sistani said the next prime minister in the new government had to be strong and courageous to fight corruption in government.
"He (the new prime minister) must launch a relentless war against the corrupted and those who protect them," Sistani's representative said.
Sistan further said "We demand that the electoral law be fair and that the Commission be independent and over the years we advised senior officials to avoid reaching the current tragic stage."
Anger is mounting at a time when politicians are struggling to form a government after the May 12 election, which was marred by allegations of fraud that prompted a recount.
Sistani, a reclusive octogenarian, is revered by millions of Shi'ite Muslims in Iraq and abroad.

Thousands have protested this month in cities in the long-neglected south, Iraq's Shi'ite heartland, against the lack of proper government services.
Demonstrations over the same issues have occurred in the past but the unrest this time is more widespread and is politically sensitive.
Prime Minister Haidar al-Abadi is seeking a second term after the parliamentary election which was tainted by allegations of corruption.

(With Reuters)