The US Department of State's electronic communication team refuted on its twitter account, Iran's "lie" about the new fighter jet it said it had recently produced.
The Iranian defense system revealed a new fighter jet that it said was sophisticated and local made, said the US Department of State's Communication Team.
The team added in a supported video tweet saying: "It seems that regime officials are not sufficiently familiar with the development of the aviation industry. Their plane is very similar to a fighter jet produced by the United States decades ago and Iran has an old fleet of these planes. Deception is their favorite means."
On Tuesday, Iran unveiled its first homemade fighter jet, while President Hassan Rouhani stressed that the sole purpose of Tehran's military force is to deter enemies and establish a "lasting peace."
Iranian state television showed President Hassan Rouhani sitting in the cockpit of the new Kowsar jet at the National Defense Industry exhibition in Tehran.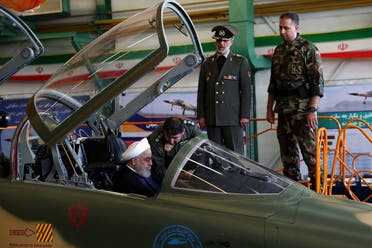 Official media claimed that the aircraft was equipped with "advanced avionics" and a multi-use radar, adding that it was "100 percent homemade."
For his part, Israeli Defense Minister Avigdor Lieberman expressed doubts about the aircraft being entirely Iranian made.
"They are under pressure because of the American sanctions, they are inventing anecdotes, but it's better not to underestimate what they are doing," he said.
"The Iranian regime has uncovered the Kowsar aircraft and claims that it is the first combat aircraft which is 100 percent domestic manufactured," said Israeli government spokesman Ophir Gendelman.
Washington is expected to impose a new round of sanctions in November on the hydrocarbons sector to keep up the pressure on Iran.