Aileen was only nine years old when she was kidnapped by ISIS from her small town in northern Iraq, and taken to Raqqa in Syria.
"They killed some of our village men in front of me on that day, while my mother, two of my younger brothers and myself were imprisoned. We remained together until we parted in the organization's base in Syria," Aileen said.
Aileen's role during her four years of captivity was to clean the house of an ISIS warlord who fought on the frontlines with ISIS.
Aileen's mother revealed that her son is still being held captive by ISIS. "I wish I could see him one more time," she said.
Another Yazidi woman, Mayasa Abbas, told Al Arabiya English that although she was now freed from ISIS captivity, her experience is still very much alive in her mind.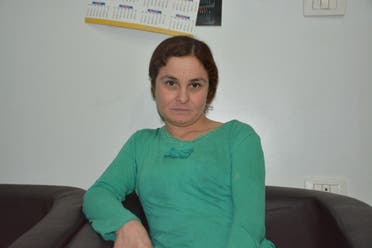 "I am happy that I am rid of ISIS, but the cruel moments do not leave my mind, and my happiness will never be complete," she said.
"When I remember the first hours when the fighters entered our village, I felt fear, and that feeling never left me until I was finally able to escape them," Abbas added.
Abbas, 35, said that the organization forced the captives to convert to Islam, which many did out of fear.
"Many Yazidi women committed suicide from being treated so badly. We all lived in different areas around Syria, where the women were placed according to their age and social status. Some of us tried to escape but failed which gave them more reason to torture us," Abbas said.
She added that ISIS members would force the girls to drink alcohol and take unknown pills.
Fear of going home
The Directorate General for Yazidi Affairs in the Ministry of Awqaf of the Kurdistan government of Iraq said that the latest statistics show that more than 3,500 Yazidi girls are still being held captive by ISIS.
Syrian journalist Jaber Jindo who is specialized in Yazidi affairs told Al Arabiya English that many survivors expressed to him their fear of going back to their hometowns.
"So many of them fear how their families will react as a result of the girls going through repeated rape and physical violence. Many of them have also bared children from the organization's fighters, so many of them now live in scattered camps in Syria," Jindo said.
He added that many families of the captives pay large sums of money to middlemen to find them and bring them home, however, many of the girls hide their identities and choose not to return out of shame.
Because of this, the Supreme Spiritual Yazidi Council has announced the "need to allow the return of female survivors from ISIS to their parents, and for them to be accepted in their societies without pressure or conditions."
The Yazidis adhere to a faith that emerged in Mesopotamia more than 4,000 years ago but that has over time integrated elements of Islam and Christianity.
Of the world's 1.5 million Yazidis, about 550,000 lived in Iraqi Kurdistan but some 400,000 have been displaced by fighting due to ISIS.
Around 1,500 have been killed and more than 3,000 are believed to remain in captivity, the UN Assistance Mission to Iraq (UNAMI) and the UN rights office said in an August report.
In areas controlled by ISIS, thousands of women and girls from the Yazidi minority were used as sex slaves and suffered horrific abuse, including rape, abduction, slavery and cruel, inhumane and degrading treatment.