King Abdullah calls for report to determine responsibility for Dead Sea tragedy
King Abdullah II of Jordan, said that the Dead Sea flood incident "was a great tragedy that hurt all of us as Jordanians, God bless the dead and give us patience. My condolences to the families of the deceased, myself, and all Jordanians."
King Abdullah, who chaired a meeting of the National Policy Council at the Husseiniya Palace on Friday to follow up the repercussions of the floods in the Dead Sea region, added that "what has happened has affected the hearts of all Jordanians and the hearts of people in the region and the world, and Jordan has received love and support after the tragedy which resulted in the death of 21, mostly children, and wounded 35."
The king stressed the need for a report to accurately determine what had happened and to act transparently to determine who was responsible.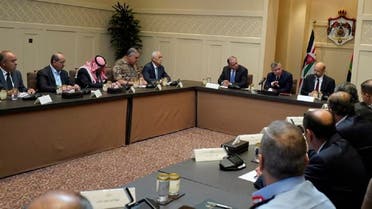 During the meeting, the King gave orders that the best medical care and treatment be provided to the injured. He wished all of them speedy recovery.
Attending the meeting was Prince Faisal Bin Al Hussein, in additon to the king's advisor, head of Council for National Policy, and Prime Minister Omar Al Razzaz.
The King expressed his appreciation for the efforts of the civil defense, the public security, and the armed forces, as well as the medical teams, in trying to save lives and evacuate the injured.
"I also thank the citizens who helped in the rescue and evacuation operations, and this cooperation is a source of pride to all Jordanians."