Independent Arabia, the newly-launched news service from London, published its inaugural interview with Prince Bandar bin Sultan bin Abdulaziz Al Saud. The former Saudi intelligence chief and former ambassador to the United States spoke candidly about several sensitive issues in the Arab region.
During the interview, Prince Bandar remarked that an ignorant man was his own enemy and narrated events surrounding Saddam Hussein, Khomeini and the Shah.
History would have been very different if only the Shah had not forced Saddam to expel Khomeini - who was then under house arrest in Iraq - to Paris, according to the prince.
Prince Bandar also spoke about the consequences of President Obama's misplaced policies towards the Middle East leading to the present crisis in Syria as well as his double-standard policy towards Iran which led to the Saudi mistrust with the US regime.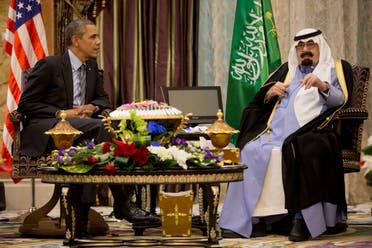 He said that he does not regret not meeting with Barack Obama because he took the region 20 years back due to his policies in the Middle East.
In the coming days, further excerpts of the interview - lasting more than 14 hours - held at his palace in Obhor in Jeddah, west of Saudi Arabia, would be published by Independent Arabia.
Prince Bandar had served as director general of the General Intelligence Presidency and also as the secretary general of the National Security Council.
In the interview, he also touched on his stint of almost a quarter of a century - from 1983 to 2005 - in Washington as the Saudi envoy to the United States.
Qatar
On Qatar, Prince Bandar described former Prime Minister and former Foreign Minister Hamad bin Jassim as an "expert in half-truths".
Prince Bandar cited the leaked recording of the conversation between Qatar's former Emir Hamad bin Khalifa and Hamad bin Jassim with late Libyan leader Moammar Qaddafi in which bin Jassim spoke about schemes to target Saudi Arabia.

Bin Jassim's justification of this audio "tells half the truth," Prince Bandar said. The truth was that it the conspiracy and plan was real and not what Doha sought to portray when it tried to justify what transpired as an attempt to bait Qaddafi.
Prince Bandar also added that Qatar suffers from schizophrenia in terms of its policies, and noted that the presence of an American base does not mean protection for the regime in Doha, as the base was solely for American use and not for Qatar.

On the Turkish troop presence, Prince Bandar said their role was to help maintain security in Qatar, adding that Doha had previously enlisted the help of Yemen, Sudan and Saudi Arabia to preserve its security.
Bashar al-Assad
Prince Bandar described Bashar al-Assad as a "kid". Bashar's father Hafez al-Assad was capable of being decisive and making decisions, unlike Bashar who suffered from a complex that he hasn't been able to overcome and which is called "Bashar Hafez al-Assad."

Prince Bandar also narrated how he interceded with the British government for Bashar al-Assad after he graduated so that he could enroll in a specialized course in ophthalmology in London.

The former chief of General Intelligence Presidency also narrated the details of his meeting with Russian President Vladimir Putin following the Syrian revolution when Assad began to shell civilians. Putin told him that it was the Saudis who had "inflated Assad's ego" when they arranged meetings for him with former French President Jacques Chirac and White House officials, when he became President.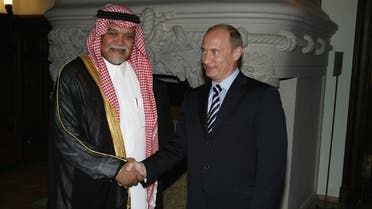 President Putin also told him during the meeting that he had invited Bashar more than once to visit Moscow but he did not respond. "Now, he will come crawling for my help," quipped Putin.
Prince Bandar said the reason behind the Syrian regime's exaggerated media coverage of his appearance or role and linking it to developments inside Syria, is personal. "It's because I know Bashar before he became something, and after he thought he became something," he said.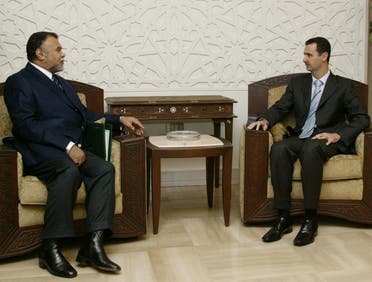 He also denied claims that he had a hand in the establishment of ISIS and strongly refuted the accusations made against him in this regard.
Iran
Prince Bandar described Iran's Shah as a rational enemy, adding that he was better than an ignorant friend, although there was "no friendship between us", in reference to Iran's current regime and the issues that have arisen since Khomeini came to power.

He said that it was the Saudi effort under the leadership of King Faisal that managed to convince the Shah of abandoning his move to annex Bahrain.
Prince Bandar remarked that an ignorant man was his own enemy citing the events surrounding Saddam Hussein, Khomeini and the Shah.
Khomeini was under house arrest in Iraq when Saddam Hussein's regime was in power and he circulated cassettes inciting rebellion against the Shah, leading the latter to threaten Saddam with invasion of the Shatt al-Arab if he did not expel Khomeini out of Iraq.

Prince Bandar said that Saddam tried to convince the Shah not to do so and told him that he would prevent Khomeini from further issuing inciting cassettes. Not placated, the Shah insisted that Khomeini be expelled to Paris.

Commenting on Khomeini's rise and the establishment of the Guardianship of the Islamic Jurist regime in Iran, Prince Bandar said Saudi Arabia waited until after Khomeini attained power and did not take a stance until he threatened to invade Iraq and later threatened Gulf countries.

Prince Bandar said that at this point, Riyadh chose one of the bad options which was to support Saddam in his war against Iran, adding that Riyadh had also secretly sponsored negotiations in Geneva between Baghdad and Tehran as well as in the palace of late Prince Sultan bin Abdulaziz, Saudi Crown Prince and Defense Minister.

The former Saudi envoy to Washington also narrated how he met Qassem Soleimani, the commander of the Quds Force at the Islamic Revolutionary Guard Corps, during a visit to Tehran to meet Ali Larijani, Iran's Parliament Speaker.
Prince Bandar said: "A coincidence led me to getting to (see) Soleimani face to face. Until then, we had (only) heard of him without seeing him."
Obama's policies emboldened Russia, Iran
It was former American President Barack Obama's lenient policies which emboldened Russia and Iran to interfere in Syria, Prince Bandar said.
He revealed details of the last phone call between late Saudi King Abdullah bin Abdulaziz and Obama, during which the King told Obama: "I did not expect that (after) this long life, I would see (the day) when an American president lies to me."
This was in reference to the famous red lines which Obama spoke of when he made a media statement on August 20, 2012, in the White House promising to stop the Syrian regime's violations against civilians, i.e. when the regime troops used chemical weapons against them.
President Obama "would promise something and do the opposite," Prince Bandar revealed, and this was the reason behind the tense relations between the US and Saudi Arabia during the last days of Obama's term.
Prince Bandar noted that Obama spoke of curbing Iran's role in the region and at the same time he secretly negotiated with it, leading to the Saudi mistrust with the Obama government.
Prince Bandar said that he does not regret not meeting with Barack Obama because he took the region 20 years back due to his policies in the Middle East.
On Palestine
Prince Bandar spoke extensively about the Palestinian cause and said former Palestinian President Yasser Arafat committed a crime against the Palestinian cause and the Palestinians when he rejected the peace initiative and solutions advocated by former American President Bill Clinton.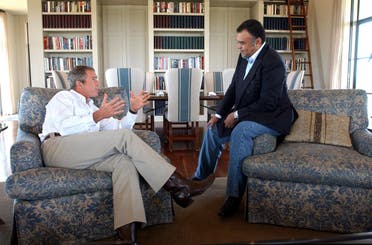 He also narrated details of the disagreement around Palestine between late Saudi King Abdullah bin Abdulaziz and former American President George W. Bush at the latter's ranch in Texas.

The former envoy to the US also narrated several other interesting incidents and anecdotes that transpired between him and a number of American presidents - from Jimmy Carter to George Bush Jr.