The Lebanese army began a wide-scale operation on Wednesday to open roads blocked by a number of demonstrators in different cities as protesters refused to leave on the seventh day of nationwide protests.
An Al Arabiya correspondent reported that the army tried to forcibly open some of the main roads, which led to some confrontations with protesters, especially in the areas of Keserwan, and Sidon.
Reports suggest the army was forcibly removing protesters from the highway in Nahr al-Kelb, one of the main roads going into Beirut from the north. Traffic data showed that many roads in and around Beirut remained closed.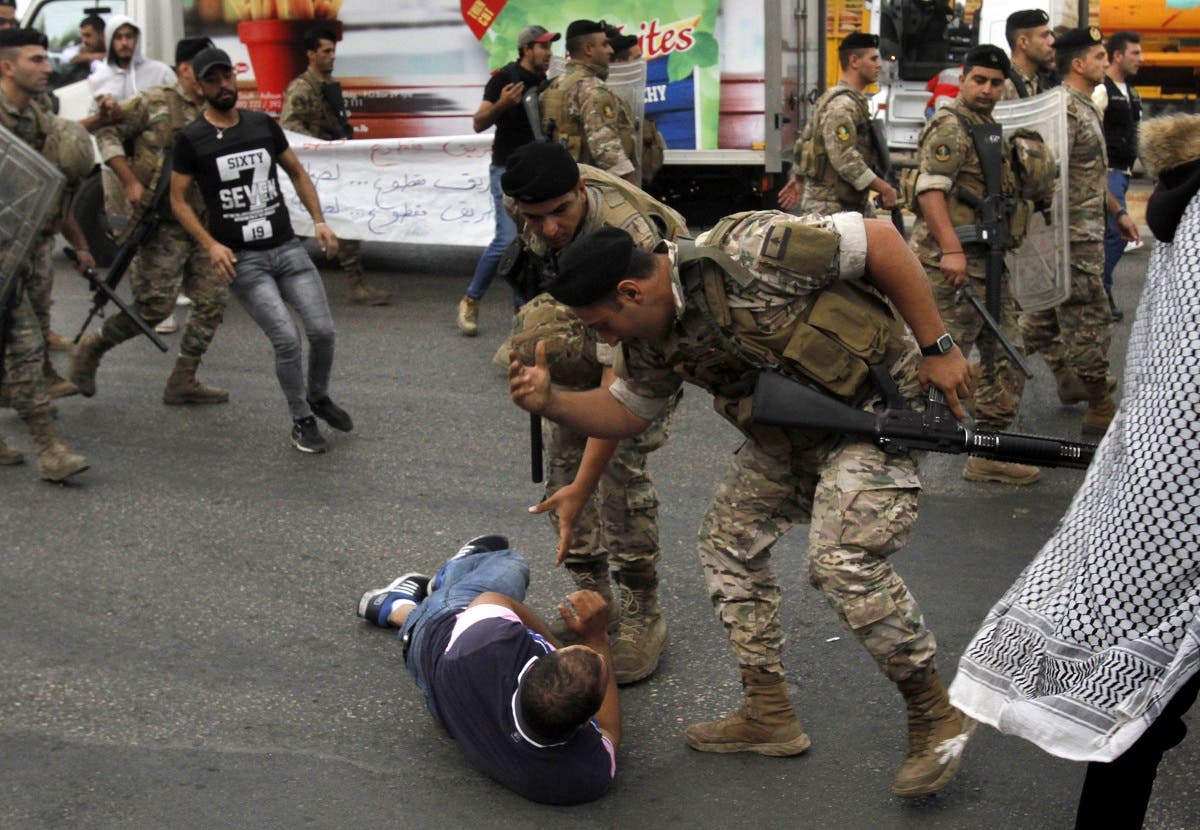 "Peaceful demonstration is a right in Lebanon and we refuse to close roads and block people," Suleiman Frangieh, the leader of the Marada Movement political party said.
Banks remain closed
Banks remained closed for a fifth day, with the banking association saying they will remain closed on Thursday as they are "waiting for the general situation to stabilize."
The government's recent fiscal reforms, which include a tax on the profits of banks, are credit negative for the sector, according to the ratings agency Moody's.
Media under fire
The night before, the chief of Lebanon's National News Agency, Laure Sleiman, was fired from her post. The NNA had been covering the protests.
Protesters had also stormed the offices of TV Lebnan, accusing the station of not covering the protests sufficiently.
One reporter told Al Arabiya English that they did not feel safe in certain areas of the city. However, other reporters could be seen freely mingling with the crowds and conducting interviews safely.
Maronite Patriarch supports protests
Lebanon's Maronite Patriarch Bechara Boutros Al-Rai said on Wednesday that reform measures enacted to calm nationwide protests were a good "first step" but that a new cabinet was required to implement them.
In a televised speech Rai said he supported the protests and urged them to remain peaceful.
"The list of reforms is a positive first step but it requires amending the ministers and renewing the administrative team," Lebanese broadcaster LBC quoted Rai as saying.
Parliament Speaker says Lebanon can't withstand state of suspension
Lebanon cannot withstand its current state of "suspension," Parliament Speaker Nabih Berri said on Wednesday, Lebanese Hezbollah's al-Manar TV reported, on the seventh day of anti-government protests that have paralyzed the country.

"The country cannot bear remaining suspended and we fear a vacuum and nothing else," Manar cited Berri as telling MPs in his parliamentary bloc at their regular Wednesday meeting.
Reports from Shia areas of south Beirut and the calls for cross-sectarian unity from protesters suggest that all political parties, including Berri's Amal party, are losing authority.
Around 100-200 Hezbollah and Amal supporters on motorbikes drove to central Beirut and tried to disrupt the protests, but were pushed back by the army.
Mass protests across the country have continued on Wednesday.