The chairman of the Iranian parliament's national security and foreign affairs committee Mojtaba Zolnour announced in a video on Thursday that he is infected with coronavirus.
"This virus is currently widespread and there is no reason to be concerned," Zolnour said in a video, adding that he is in quarantine.
"Our nation will, God willing, defeat coronavirus," he said.
Two other Iranian officials – MP Mahmoud Sadeghi and deputy health minister Iraj Harirchi – had also previously announced that they have been infected with coronavirus in similar style by posting assuring videos with encouraging messages.
The number of people infected with coronavirus in Iran has risen to 245 and the death toll to 26, according to Iran's health ministry, the semi-official Fars news agency reported Thursday.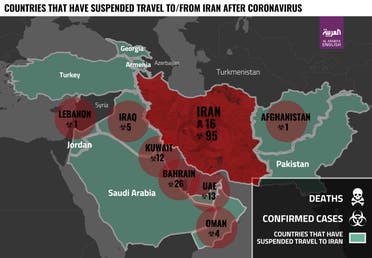 Read more:
Coronavirus cases in Iran could be as high as 1,500: Experts
Opinion: Something is rotten in the Islamic Republic: Iran's sinister coronavirus cover-up
Coronavirus cases in Iran could be as high as 1,500: Experts
How deadly is the coronavirus and is there a cure: 10 questions answered