Iran's Fars, Mehr agencies: Al Jazeera 'glorifies martyr Soleimani' in deleted report
Iran's semi-official Mehr and Fars news agencies said Al Jazeera favorably reported on the life of slain Iranian commander Qassem Soleimani through its now-deleted 'Al Jazeera Podcast' report.
"An Al Jazeera video through its platform 'Al Jazeera Podcast' has exploded on social media after its glorification of the leader of the Iranian Quds Force, the martyr 'Qassem Soleimani' who was assassinated by the American occupation forces in Iraq," read the Mehr news report.
The Qatari state-run broadcaster Al Jazeera has come under fire for the report after initially tweeting a tribute profile glorifying slain Islamic Revolutionary Guard Corps (IRGC) Quds Force commander Soleimani last week. The Qatari network then deleted the link on its Twitter account a few days later.
Read more: Al Jazeera deletes podcast tweet glorifying Iran's Soleimani shortly after posting
"Mehr News Agency reported that the video published by the Al Jazeera network through its account 'Al Jazeera Podcast" on Twitter on Monday, May 11, sparked widespread controversy on social media because of its glorification of the role of the martyr Qassem Soleimani in the face of American terrorism, and ISIS in Iraq and Syria," Mehr added in its report.
Fars news agency also covered the deleted Soleimani profile, running a report under the headline "Al Jazeera channel praises the martyr leader Soleimani, annoying Al Arabiya."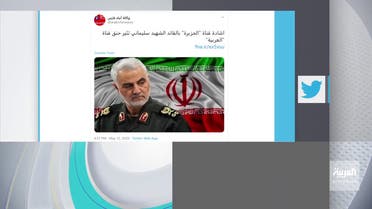 The podcast's introduction is filled with cinematic music that builds dramatically, leading to the opening statement: "I am Soleimani, the soldier fighting for the sake of Allah… The name great Satan fears… I am nothing more than a soldier of the Islamic Revolution... A soldier, I thank Allah, for blessing me with martyrdom."
Read more: Al Jazeera accuses MBC of 'normalizing ties with Israel' despite its own track record
Speaking to Al Arabiya, Saudi Arabian writer Ahmed al-Farraj said the latest controversy surrounding the Qatari-run Al Jazeera points to its history of contradictions within its editorial policy.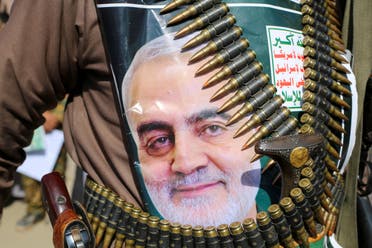 "This is the network that glorified this murderer who killed and displaced hundreds of thousands of Syrians whom Al Jazeera has supported in covering their revolution," al-Farraj said.
Read more: Al Jazeera English vs. Al Jazeera Arabic: One channel, two messages
The Al Jazeera Media Network has long had disparities between its Arabic and English language news channels, with the former being accused of taking a more anti-Semitic and anti-Israeli editorial line.
Those editorial discrepancies were highlighted last May when the network's Arabic AJ+ platform claimed that Jews exploited the Holocaust, exaggerated the death toll, and that Israel is the genocide's "greatest beneficiary."
Qassem Soleimani's final journey: How it happened minute-by-minute: