Egyptian army able to defend the country's security: President al-Sisi
The Egyptian army is capable of defending Egypt's national security inside and outside its borders, President Abdel Fattah al-Sisi said on Saturday during his visit to the Western Military Region.
"The Egyptian army is one of the strongest armies in the region, but it is a rational army ... that protects and does not threaten... and is able to defend Egypt's national security inside and outside the borders of the homeland," he added.
For all the latest headlines follow our Google News channel online or via the app
The inspection was also attended by the Commander-in-Chief of the Armed Forces, the Chief of Staff of the Armed Forces, and leaders of the main branches of the Armed Forces.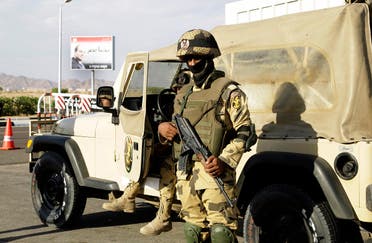 Read more:
Egypt asks for UN help after Ethiopia pledge to push ahead with Grand Renaissance Dam
Arab League plans urgent virtual meeting on escalating conflict in Libya
Iranian judge found dead in Romania not a person who wanted suicide: Lawyer
Iran, Turkey likely coordinating attacks on Kurdish areas, say experts, mayor
Arab League plans meeting on Libya
Al-Sisi's comments come amid worsening conditions in next-door Libya, where Egypt backs the forces of the Libyan National Army in the country's ongoing civil war.
The Arab League has announced plans to hold an urgent virtual foreign ministers' meeting to discuss the escalating conflict in Libya.
The meeting, to be held at Egypt's request via video conference, comes as fighting continues between rival administrations based in Libya's capital and the east.
The LNA has recently lost ground to the UN-recognized Government of National Accord, backed by Turkey, which has refused to accept the Egyptian-brokered Cairo Initiative ceasefire deal.