Lebanese protesters clash with security forces in Beirut, some injuries reported
Hundreds of Lebanese protesters flocked to the streets of Beirut on Saturday afternoon to demonstrate against the government's handling of the August 4 port explosion that killed at least 158 people.
The demonstrators clashed with security forces, who fired tear gas at the crowd in an attempt to disperse them, an Al Arabiya correspondent said. Riot police had started firing the gas after a group of people tried to break through a barrier to get to the parliament building in central Beirut, an Al Arabiya correspondent confirmed.
The Lebanese army issued a statement on Saturday urging the protesters to act peacefully and to refrain from closing roads or attacking public or private property.
Several individuals were hurt during the ongoing clashes, Al Arabiya reporters at the scene said.
Protesters forcibly removed one of the gates outside the parliament building, as dozens chanted against President Michel Aoun and the Iran-Backed Hezbollah group.
"Hezbollah is a terrorist," the protesters were heard chanting. Some carried cardboard cutouts of Lebanese politicians, while others held flags.
For all the latest headlines, follow our Google News channel online or via the app.
Protesters came prepared
Protesters came prepared for a fight, equipped with helmets, gas masks and goggles to protect against tear gas.
Many had come straight from the nearby Mar Mikhael, Gemmayze and Karantina neighborhoods, where they had been helping clear up the rubble from Tuesday's explosion.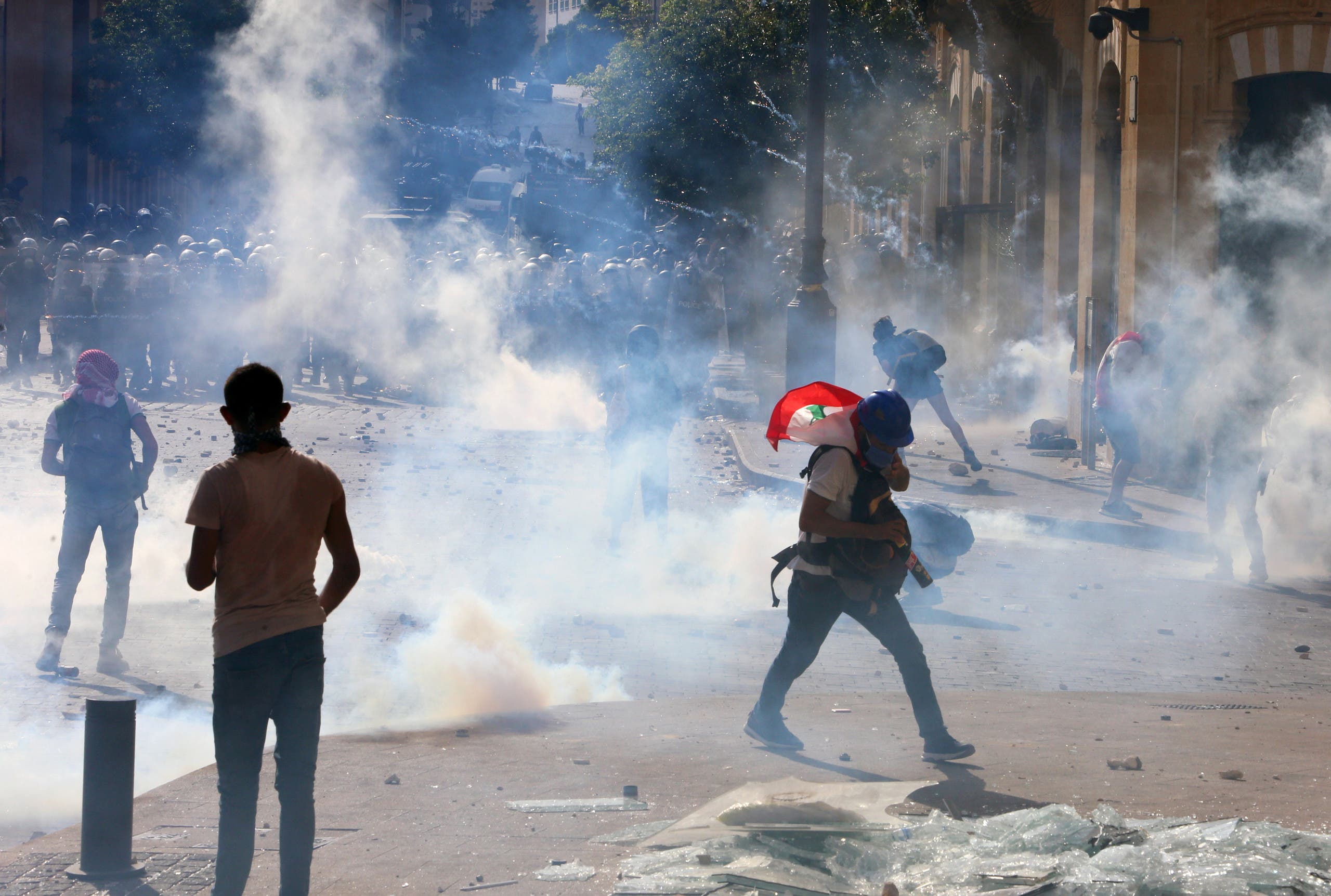 One young man carried a home-made shield bearing the iconic Lebanese cedar tree.
Twenty-year old Nisrine is leaving Lebanon in a few days' time after spending her entire life in the country, having given up hope at securing a safe future there.
"I love my country, but I've been forced to leave," she said. "So today, I've come down here to smash everything."
As tear gas canisters rained down on crowds gathered at the steps of the Mohammed Amine Mosque, dozens of people turned and began to run to escape the clouds of gas.
"Please, I beg you, don't leave," one woman implored. "We've got to do this together or we'll never get justice."
Despite the ongoing confrontations between security forces and protesters, people continued to flock to downtown Beirut in their hundreds.
The demonstration had begun with a funeral march for the victims of Tuesday's blast.
More than 6,000 others were injured in the capital on Tuesday when a warehouse storing 2,750 tonnes of ammonium nitrate exploded after catching on fire.
The explosion had destroyed entire buildings and shattered windows, leaving around 300,000 people in Beirut homeless.
Protesters carried pieces of paper with the names of the dead, and chanted curses at Lebanese leaders, calling them out one by one.
"Thawra, thawra, thawra!" - familiar cries of revolution from the protest movement that began in October rang out from between buildings hollowed out by the blast.
In Martyrs' Square, which overlooks the ruins of Beirut port, protesters had erected a gallows - each noose tied around a cardboard cutout of a different Lebanese leader.
"Since the civil war these people divided the state between them according to their interests," a man who gave his name only as "Lebanon" told Al Arabiya English.
"Today, they have two options: resignation or hanging."
Forty-two year old Caroline came down with her family from her town in Mount Lebanon to protest Saturday.
"We're here to tell them they need to go. From the president all the way down, enough."
Read more:
Beirut explosion death toll rises to 158, over 6,000 injured: Health ministry
Lebanese get to work to clean up after Beirut explosion in face of government absence