105 soldiers injured in anti-government protests in Beirut: Lebanese army
A total of 105 soldiers, including eight officers, were injured in anti-government protests that took place on Saturday in Beirut following the deadly port explosion, the Lebanese army said in a statement on Sunday.
Four protesters were arrested for rioting and damaging public and private property, the statement added.
For all the latest headlines follow our Google News channel online or via the app.
The soldiers were injured when demonstrators threw large rocks and Molotov cocktails at the officers, according to the army.
Hundreds of people gathered in downtown Beirut to protest the government's handling of the blast that killed at least 158 people and injured over 6,000 others.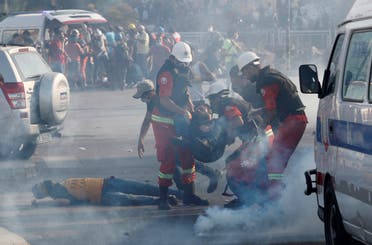 On Saturday night, the Lebanese army drove out a group of demonstrators who had stormed the foreign ministry building hours earlier during the anti-government demonstrations in the wake of the deadly Beirut explosion, Lebanese broadcaster LBCI reported on Saturday.
"The vicinity of the Ministry of Foreign Affair has now been cleared of protesters, and the army has followed a group that hurled rocks," LBCI said.
Read more:
Lebanon's information minister, six MPs resign following Beirut explosion
Beirut would be 'erased' had full chemical load exploded, bulk likely stolen: Expert
Lebanese President Aoun says international investigation 'waste of time'