Beirut explosion: Lebanese protesters clash with police in second day of demos
Protesters hurl stones at police blocking a road near Lebanon's parliament in the second day of demonstrations against the government in anger over the deadly port explosion less than a week ago, according to a Reuters reporter.
A Reuters correspondent said hundreds were converging on amain square where thousands of Lebanese protested on Saturday against a political elite they blame for the country's economic and political woes.
For all the latest headlines follow our Google News channel online or via the app.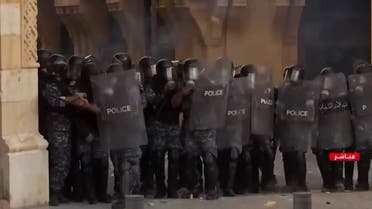 "We want to destroy and kill the government. They gave us no jobs nor rights," said Nissan Ghrawi, a 19-year old unemployed demonstrator.
Read more:
Multiple Lebanese officials resign after Beirut explosion
Beirut explosion: Fourth plane carrying aid from Saudi Arabia arrives in Lebanon
Lebanon's Diab, ministers considering submitting joint resignation: Report