US still opposed to Hezbollah's participation in Lebanon govt: Official
Washington is still opposed to Hezbollah's participation in Lebanon's governments, a senior US official said Wednesday.
"We, at the State Department and in our Congress, we've all been clear about our opinion for decades now, of Hezbollah being in the Lebanese government. It is not a party that we are willing to do business with," State Department Spokesperson Morgan Ortagus told Al Arabiya in an exclusive interview.
For all the latest headlines, follow our Google News channel online or via the app.
French President Emmanuel Macron's recent visit to Beirut worked on laying out a roadmap for Lebanese officials, who committed to forming a new government within two weeks. The French president threatened sanctions if reforms were not implemented after a certain period of time, but stopped short of calling for the exclusion of Hezbollah from any future government.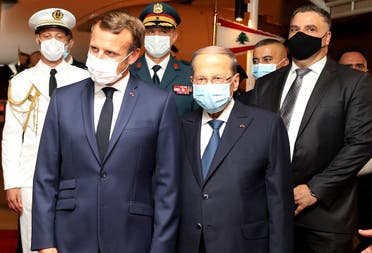 Earlier Wednesday, US Secretary of State Mike Pompeo said the new government in Lebanon must carry out "real change," adding that Iran-backed Hezbollah needed to disarm.
"Business as usual in Lebanon just is unacceptable," Pompeo said during a news conference in Washington.
Lebanese officials designated a new prime minister on Monday, to form and head a government capable of implementing reforms in order to unlock international aid.
Read more: Who is Lebanon's new prime minister-designate, Mustapha Adib?
The country is facing an unparalleled economic and financial crisis, coupled with the coronavirus pandemic and the aftermath of the deadly Aug. 4 explosions.
Pompeo said any new government must conduct "significant reforms" and "real change," being demanded by the Lebanese people. "And the United States is going to use its diplomatic presence and its diplomatic capabilities to make sure that we get that outcome," he added.
Hezbollah should disarm
Turning to Hezbollah, Pompeo said the "risk stares you in the face."
"And so those people who are either part of that or are playing footsie with Hezbollah should know that that's not productive," Pompeo said.
Hezbollah was the only non-state group that kept its arms following the end of the 1975-90 Civil War. "Everybody disarms but Hezbollah. This is the challenge that is presented," Pompeo said.
Pompeo said Hezbollah's arms were not what the regional security needed and that Washington was coordinating with France to help resolve Lebanon's issues. "So I'm confident that the United States, the French, and all of us who are working there on the ground, both to meet the immediate needs in the result that flowed from the explosion that took place now several weeks back as well as the longer-term challenges that are presenting in Lebanon. We'll all work on it together."
Read more: Beirut residents unconvinced by Lebanon's new prime minister-designate