Sudan floods: Nearly 100 deaths, hundreds homeless amid unprecedented rainfall
Nearly 100 people have died and hundreds have been left homeless due to the unprecedented floods in Sudan caused by heavy rainfall in recent weeks, forcing the government to declare a state of emergency across all governorates.
Various regions in Sudan are experiencing difficult humanitarian conditions due to the floods that struck the country.
For all the latest headlines, follow our Google News channel online or via the app.
At least 46 people have been injured due to the recent floods, while large areas of fertile agricultural land that used to supply the country with its needs of vegetables and fruits have been damaged.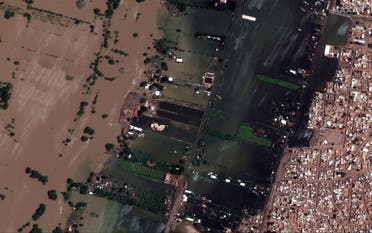 The Director of Civil Defense Police in North Kordofan, Sudan, announced on Monday the death of 11 people as a result of the floods, noting that 375 houses had collapsed in the governorate while 16 government facilities were damaged.
The states most affected included North Kordofan, Khartoum, al-Qadarif, and Sennar states.
Read more: Sudan declares three-month state of emergency over floods: SUNA
Sudanese authorities said that the Nile River began to witness stability in some stations that recorded an unprecedented rise at levels not seen in a hundred years.
Despite the relative stability of the levels of the Nile, authorities said they do not rule out that it will continue to rise in some places, especially the capital Khartoum and some cities in the Nile River state, at a time when different areas in Sudan are experiencing difficult humanitarian situations that have forced the authorities to declare a state of emergency in all governorates.