Charity founded by Syrian tycoon Rami Makhlouf has Facebook page removed
The Facebook page of the Al Bustan Association, a Syrian charity founded by sanctioned tycoon Rami Makhlouf, was removed this week, amid rumors that the influential organization is being co-opted by President al-Assad.
The Al Bustan Association supported Assad's war efforts through hand-outs to the families of fallen soldiers, and funding a loyalist militia of the same name. This, alongside Makhlouf's family pedigree, allowed him to command influence in the Alawite community, that is also loyal to Assad.
For all the latest headlines, follow our Google News channel online or via the app.
It not yet known who deleted the page and when. Yet the move followed a report in Syrian media that Al Bustan offices in Daraa now operate a new charity, al-Areen, which is fronted by Assad and his wife Asma.
"It is clear that they want to replace Makhlouf and his influence," said Ayman Abdelnour, a US-based activist and president of Syrian Christians for Peace. "They are operating and ready to take over all of [Al Bustan's] buildings."
Facebook page of Al-Boustan Charity Association, once part of Rami Makhlouf's empire before his fall, is now no more; the association had also raised the ire of the US in 2017 for its alleged role in bolstering paramilitary forces supporting Assad pic.twitter.com/lCBfD6mF4p

— Albin Szakola (@AlbinSzakola) September 8, 2020
Makhlouf is Assad's first cousin and one of the regime's chief financiers. Estimates of his hidden wealth start at $5bn, and documents in the Panama Papers reveal how he helped the sanctioned Syrian regime access funds.
His influential aunt Aniseh, who came from a notable Alawite family, was Hafez al-Assad's wife and the mother of Bashar.
Yet since April this year, Makhlouf has been embroiled in a public feud with Assad over who should pay to save Syria's collapsing economy. Makhlouf aired his grievances through a series of videos on his Facebook page, and became the first regime insider to publicly criticise the president from within the country.
Government measures against Makhlouf included freezing his assets and those of his family, arresting his employees and imposing a temporary travel ban. Yet his family's inextricable ties to the Assads have made him a difficult opponent to remove.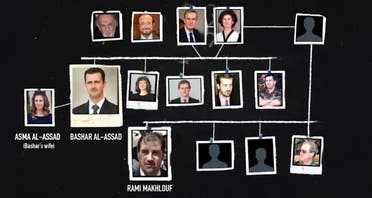 Charities at the heart of Makhlouf-Assad feud
Charities - both Makhlouf's and Assad's - are at the heart of this ongoing dispute.
When Makhlouf spoke out for the first time against government measures to seize his assets, he mentioned his charitable work. Weeks later, after Al Bustan iterated its loyalty to Assad on Facebook, Makhlouf publicly donated $2.9million.
Just weeks after Makhlouf's first video, President's wife Asma al-Assad, who runs her own network of charities, launched a nationwide campaign to support the families of fallen soldiers.
Then, in June, she and Assad launched Al-Areen. "As long as Al Bustan exists, the people will connect it to Rami Makhlouf, " said Abdelnour, who likened the creation of Al-Areen as a "rebrand."
So far, little is known about Al Areen's administrative structure and operations. The charity was registered in the city of Hama and its board members have yet to be announced. A promotional video published on Al Areen's Facebook page last week is narrated by both Assad and his wife Asma. "It's the first time they appear together and as equals," said Abdelnour.
Yet despite attempts to curb Makhlouf's financial might and erode his influence, the tycoon's fate in Syria remains uncertain.
Read more:
Inside Assad's palace: Rami Makhlouf, money, power and the future of Syria
A collapsing economy and a family feud pile pressure on Syria's Assad