Yazidi activists call out militia rule in Iraq after double killing in Sinjar
The murder of two men from an Arab tribe has sparked fresh calls against militia rule in the Iraqi mountain region of Sinjar.
Four men suspected of the killings were detained on 6 September, and revealed to be members of the Sinjar Protection Units (YBS), a Yazidi militia which is affiliated to the Kurdistan Worker's Party (PKK).
Yazidi activists condemned the killings, and accused the YBS of deliberately exacerbating sectarian tensions.
For all the latest headlines follow our Google News channel online or via the app.
"It was a politically provocative move, designed to incite hatred between Yazidis and their Arab neighbors," said Ibrahim Khudida Kasso in a video statement issued by the Sinjar-based civil society group Yazidi House, "Yazidis have always had good relations with the Al Shammari tribe, who confronted IS terrorists and made sacrifices."
Local reports say that the government has agreed to send special anti-terrorism forces to Sinjar, after a request from MP Nayef Al Shammari, a politician from the tribe whose members were killed.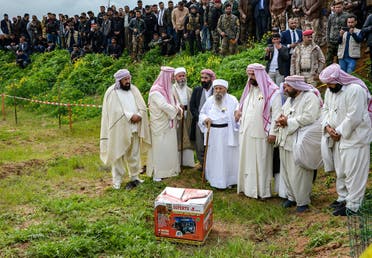 The event is yet another example of Baghdad's inability to rein in paramilitary groups, who act with impunity and disregard Iraqi rule of law.
Once controlled by ISIS, Sinjar has been controlled by armed groups allied to Baghdad since its liberation in 2015. These include the Iran-backed Popular Mobilisation Units (PMU) and the YBS.
Their presence has hampered humanitarian aid and reconstruction efforts, and poses a security threat for the tens of thousands of displaced people waiting to return to Sinjar.
In an interview for the Iraqi television channel Al Sharqiya on 7 September, a leader of Al Shammari tribe whose members were killed, Sheikh Abdullah Al Shammari, accused the PKK and its affiliated groups of destabilizing Sinjar.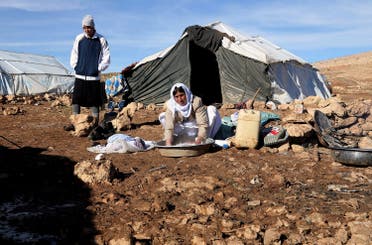 "Their transgressions have led to killing and war," he said, "Arabs, Yazidis and Kurds have historically co-existed here. We fought against al-Qaeda and ISIS and paid dearly [to protect] our neighbourhoods."
The YBS is also accused by Yazidi activists of harassment, kidnapping and recruiting minors into their forces. Neighbouring Turkey, which views the PKK as an existential threat, launched airstrikes on Sinjar earlier this year.
In the televised interview, Al Shammari called on the newly-appointed Prime Minister Mustafa Al-Kadhimi to restore Iraqi rule of law in Sinjar. "The authorities should recruit the people of Sinjar into the army and police, so that they can protect their neighbourhoods."
Read more:
Pentagon to cut US troops in Iraq to 3,000 from 5,200 this month
Iraq is presented with golden opportunity to strengthen US, Gulf ties, shake off Iran
Syria's Kurds transfer some ISIS-linked foreign families from overcrowded camp