Oman's Ambassador to the US was present at Tuesday's signing of agreements between Israel and the UAE and Bahrain in Washington, a senior White House official told Al Arabiya English on Wednesday.
Oman's fellow Gulf countries, Bahrain and the UAE, finalized agreements to normalize relations with Israel.
The deals make them the third and fourth Arab states to normalize ties with Israel. Israel signed peace treaties with Egypt in 1979 and Jordan in 1994.
Emirati Foreign Minister Sheikh Abdullah bin Zayed al-Nahyan and Bahrain's Foreign Minister Abdullatif Al Zayani signed agreements alongside Israeli Prime Minister Benjamin Netanyahu.
US President Donald Trump hosted the ceremony.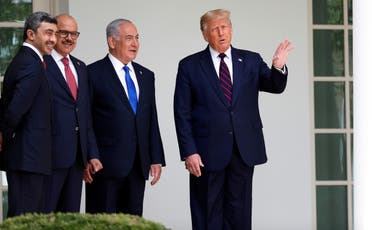 Oman welcomed both the UAE and Bahrain's decisions to build bridges with Israel when the agreements were first announced, on August 13 and September 11, respectively.
Oman said earlier this month that it hoped the "new strategic path taken by some Arab countries will contribute to bringing about a peace based on an end to the Israeli occupation of Palestinian lands and on establishing an independent Palestinian state with East Jerusalem as capital."
Oman's foreign minister Yousuf bin Alawi bin Abdullah spoke to his Israeli counterpart Gabi Ashkenazi four days after the UAE-Israel deal was announced, on August 17.
Former US Ambassador to Oman Richard Schmierer told Al Arabiya English at the time that he believed Oman "will support and try to advance the step taken by the UAE in its decision to seek normal relations with Israel."
Read more:
Six major events in Oman-Israel relations: Timeline
Iran considering assassination attempt on US ambassador to avenge Soleimani: Report
US Secretary Pompeo criticizes France for policy on Iran, Hezbollah