Israeli jailed for aiding killer of Palestinian toddler, family in occupied West Bank
An Israeli man was sentenced Wednesday to 42 months in prison for his role in the killing of a Palestinian toddler and his parents in their home in the occupied West Bank.
The 2015 arson attack on the Dawabsha family home in the village of Duma, in the occupied West Bank, sparked international outrage and shone a spotlight on Jewish extremism.
The man sentenced on Wednesday by the district court of Lod, in central Israel, has not been named as he was 17 at the time of the murders and was tried as a minor.
He accepted a plea bargain in May 2019 over his role in the attack, confessing to a racially motivated conspiracy to commit a crime and vandalism.
For all the latest headlines, follow our Google News channel online or via the app.
He had admitted to staking out Duma ahead of the attack with Amiram Ben-Uliel, the Jewish settler who threw a firebomb through a window of the family home, but was said not to have participated in it.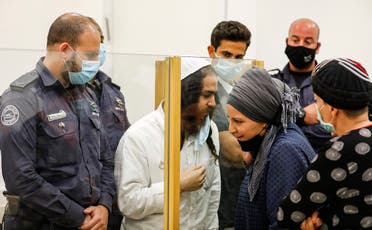 Ahmed Dawabsha, who was four at the time, was severely burned in the attack, which killed his 18-month-old brother Ali, his mother Riham and father Saed.
In October the Israeli accomplice was convicted separately of membership in a terror organization, the so-called hilltop youth which is a loosely affiliated group of Jewish extremists.
"The court took into account the confession of the minor while giving the message that those who commit racist crimes as part of a terrorist organization will be punished with prison terms," a justice ministry statement said on Wednesday.
After jail time already served, Ben-Uliel's collaborator has 10 months left of his sentence. His lawyer said they will appeal the sentence to Israel's supreme court.
On Monday, Ben-Uliel was handed three life sentences for murdering the three Palestinians and committing a hate crime.
The 25-year-old was also found guilty of two counts each of attempted murder and arson, along with conspiracy to commit a hate crime.
Read more:
Israeli court finds settler guilty of murder in arson attack on Palestinian family
UAE, Bahrain normalize ties with Israel at historic White House event