Palestinians need to recognize peace is better than conflict: US Ambassador Friedman
The United States is committed to working toward achieving a fair resolution to the Israeli-Palestinian conflict, but the Palestinian leadership has to recognize that peace is better than conflict, according to US Ambassador to Israel David Friedman.
"We're very committed to working on that. But we can't want peace more than they do. And they have to, I think understand, that we hope they understand, that the opportunity is there for them right now," Friedman told Al Arabiya English during the signing of the Abraham Accords.
For all the latest headlines follow our Google News channel online or via the app.
The United Arab Emirates and Bahrain officially normalized relations with Israel at a signing ceremony at the White House on Tuesday. The agreements "will serve as the foundation for a comprehensive peace across the entire region," said US President Donald Trump in an opening speech at the ceremony.
"This entire region is moving in a different direction. People are tired. People see opportunity. There's so much that can be done to make people's lives better. If that's their focus, they will find it in us a very willing participant and someone that wants to have those discussions, but they have to want it," Friedman added during his interview from the White House following the historic signing of Israel with the UAE and Bahrain.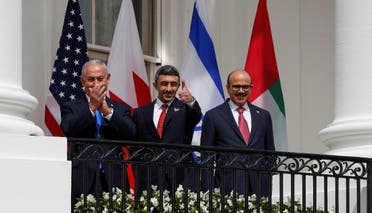 Friedman also spoke on US President Donald Trump's comments earlier that he may agree to a deal with the Iranians next.
"Now when the president says I'm going to make a deal with Iran, it doesn't mean it's going to give Iran what it wants. Any deal with Iran is obviously going to make sure that Iran never has a nuclear weapon, that they end their malign activity from Yemen to Syria to Iraq to Lebanon, that they end the ballistic missiles," Friedman said.
Read more:
Beneficial to every Arab country in the region to connect with Israel: Greenblatt
Bahrain, Israel normalize ties: Seven events that led to the deal
UAE, Bahrain normalize ties with Israel at historic White House event