Lebanese army says it arrests terrorist in connection with killing of 4 soldiers
A terrorist was arrested Friday in north Lebanon for his involvement in killing four soldiers during a raid earlier this month, the Lebanese army said.
"The Lebanese Army Intelligence … arrested the terrorist, Ahmad Samir al-Shami, who belongs to the terrorist cell of Khaled al-Talawi," the army said Friday.
For all the latest headlines, follow our Google News channel online or via the app.
A video shared across social media showed Shami being rushed to an army vehicle in the northern town of Zgharta.
On September 14, four Lebanese soldiers were killed after they raided a house in north Lebanon in pursuit of Talawi, who was wanted in connection with a fatal shooting in late August.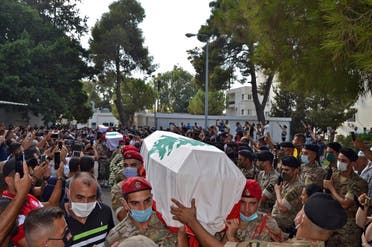 Talawi, a former member of ISIS, was killed while trying to flee hours after the raid.
He was believed to be the leader of the militant cell behind the August killing of three people in the north Lebanese village of Kaftoun.
Police had already arrested a suspect in the Kaftoun murders the day after the killings, in the Beddawi camp for Palestinian refugees.
Read more:
Four soldiers, one militant killed in Lebanon army raid: Military source
Timeline: Security incidents in Lebanon on the rise as economy worsens